Main Course: 'Bubble and Squeak' Cakes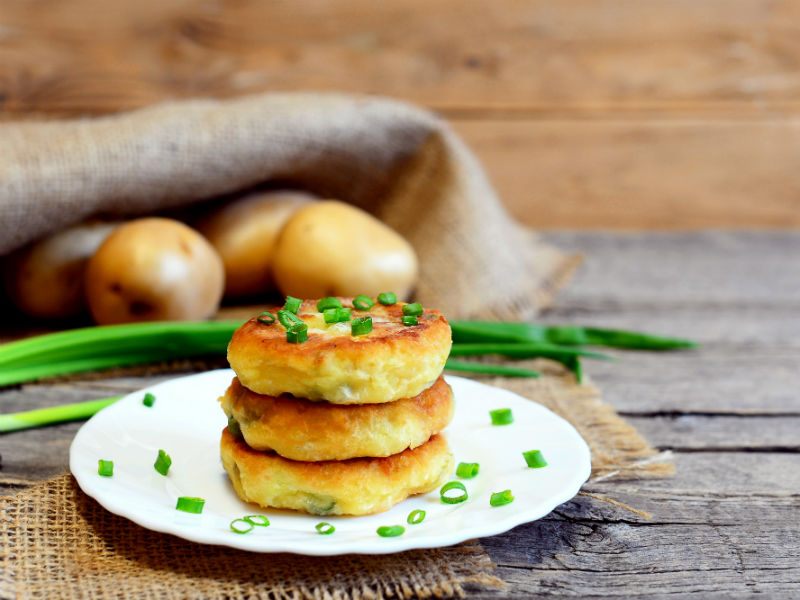 Servings: 8 cakes
Preparation time: 15 minutes
Cooking time: 10 - 15 minutes
Ingredients
This simple dish is a wonderful way to 'fry-up' leftover potatoes and veggies from last night's supper. Bubble and Squeak is a British recipe named after the sound it makes while sizzling in the pan.
4 medium leftover potatoes, peeled and mashed
1 cups cooked veggies like cabbage/carrots/Brussel sprouts/peas, chopped or mashed (your preference)
1 teaspoon mustard
2 teaspoons onion powder
¼ teaspoons salt
2-3 tablespoons flour
3 tablespoons vegetable oil
Directions for Preparation
In a large bowl, combine the mashed potatoes with the vegetables and the onion powder until everything sticks together.
Stir in the mustard, onion powder and salt.
Shape into 8 round cakes and place on a plate.
Dust the cakes with flour. Turn each cake and repeat.
Heat the oil in a large frying pan. Before placing each cake into the pan, pat off the extra flour.
Let fry for 5 minutes then slightly flatten each cake. Let cook another 2 minutes. Flip carefully.
Cook for another 5 minutes or until golden brown.
To cool, place on plate lined with paper towel.
These are a great addition to a camp breakfast since you can use up leftover potatoes from the night before and serve it alongside eggs. The cakes also freeze really well for use another time.
Return to Recipes List