Main Course: Upside Down Potato Beef Casserole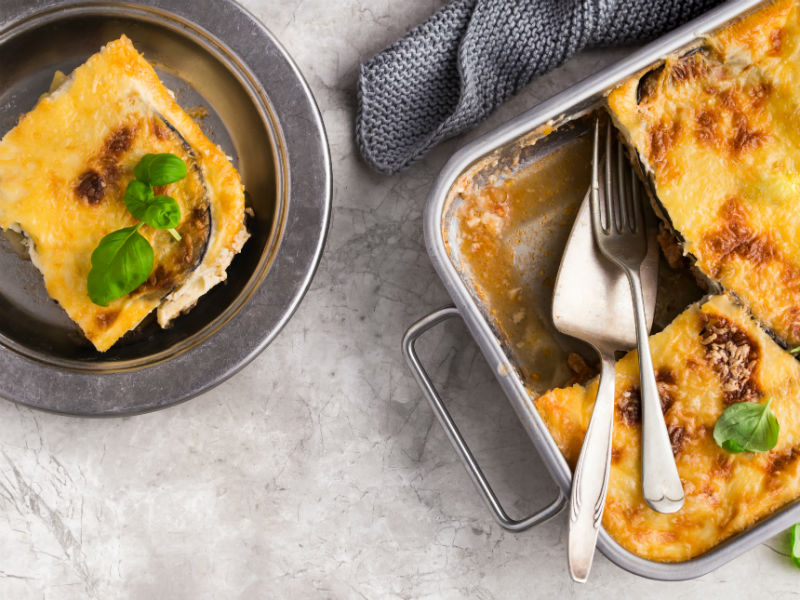 Ingredients
1 ½ lbs or ¾ kilogram lean ground beef,
thawed if frozen
2 medium onions, finely chopped
1 small green pepper or 2 celery stalks or 1 small can mushrooms, drained
2 garlic cloves, sliced or ½ teaspoon garlic powder
1 can (370 ml) evaporated milk, preferably 2% M.F.
¼ cup grated parmesan cheese
½ teaspoon garlic powder
½ teaspoon dried herbs like tarragon, thyme or Italian seasoning
6-7 medium potatoes, washed/peeled and sliced as thinly as possible
2 cups chopped frozen vegetables like peas and carrots
½ cup shredded cheese, any type
Directions for Preparation
Preheat oven to 375 °F. Grease a 9" x 13" baking dish using vegetable oil.
In a large frying pan cook the ground beef with half of the onion, green pepper (or substitute) and garlic.
Once cooked, drain the meat in a pasta strainer to remove excess fat. Set aside.
In a large bowl, combine the milk, parmesan cheese, garlic powder, the remaining onion and dried herbs.
Toss in the potatoes and frozen vegetables. Stir gently to coat the potatoes with the sauce,
Pour the potato mixture into the baking dish. Spread the potatoes out evenly in the baking dish.
Spread the ground beef evenly over the potatoes.
Sprinkle with cheese and cover with aluminum foil.
Bake for 45 minutes, remove foil and cook another 15 minutes. Check that the potatoes are tender before removing from the oven.
Simple meals made at home can save a bundle! Make sure you add vegetables to every meal; frozen veggies are just as healthy as fresh and can often be more affordable. Lean ground beef is a budget stretcher and can still be healthy. One study found that simply rinsing cooked beef with hot water and patting excess fat with a paper towel can lower the fat by as much as 50 percent!
Return to Recipes List