Main Course: ​10 – Minute Cheesy Pasta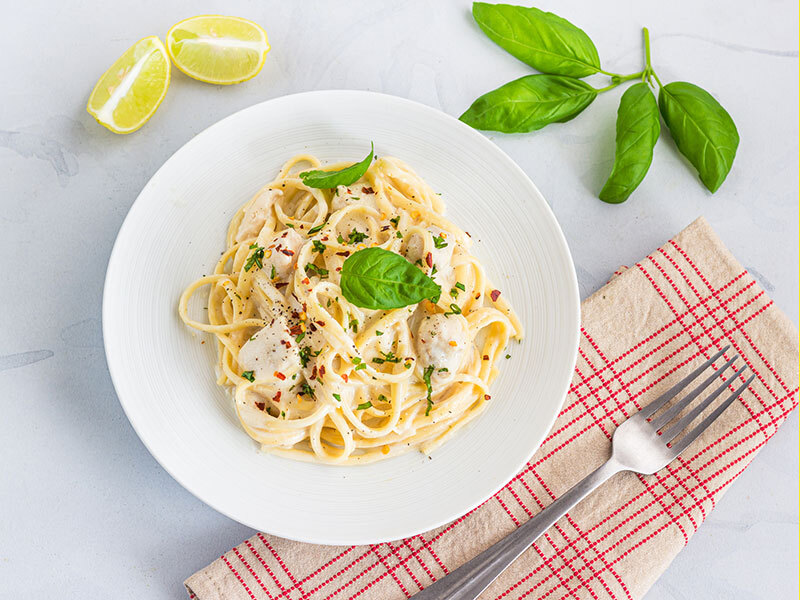 Servings: 6-8 Servings
Preparation time: 5 minutes
Cooking time: 10 minutes
Ingredients
Comfy and filling, this easy meal comes together in a flash for a quick mid-week meal. Add some pan-fried veggies and grilled meat or fish for a balanced meal.
1 package pasta (400 grams) pasta, any shape
1 package (227 grams) plain or flavoured cream cheese
½ cup shredded cheese
¼ cup parmesan cheese
2 tablespoons olive oil or vegetable oil
3-4 garlic cloves, finely chopped
Optional: 1/4-1/2 tsp chili flakes, adjust to your taste
Optional: 2 cups lightly pan – fried veggies likes: mushrooms, spinach leaves, chopped peppers, frozen peas
Directions for Preparation
In a large pot of boiling water, cook the pasta according to package directions. Right before draining, set aside 1 cup of the starchy pasta water.
Drain and place back into the same pot.
Meanwhile in a large skillet, warm the oil on low-medium heat. Add the garlic and stir constantly, do not let the garlic burn.
Once the garlic is light brown, stir in the cream cheese and about half of the starchy pasta water. Stir and remove lumps until the sauce is smooth.
Add the smooth sauce to the pasta and turn on the heat to low-medium.
Add the rest of the starchy pasta water, the cheese, the chili flakes (optional) and the vegetables (optional).
Cook just until the cheese is melted. Stir well to evenly coat the pasta in the sauce.
Serve right away. Enjoy!
Return to Recipes List