Dessert: Strawberry Rhubarb Crisp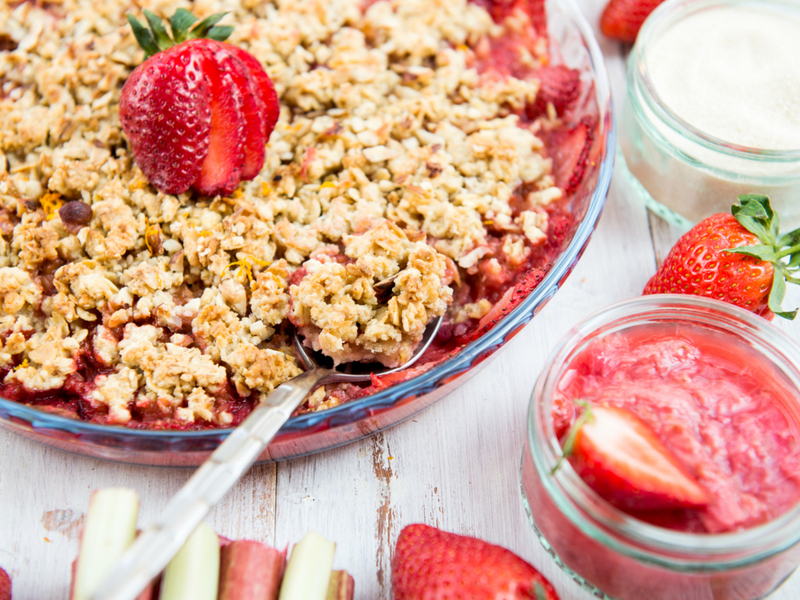 Servings: 8 Servings
Preparation time: 20 minutes
Cooking time: 35-45 minutes
Ingredients
Red fruit bubbling away under a crunchy oat topping — this dessert tastes like summer
Filling
4 cups chopped rhubarb
4 cups frozen strawberries, thawed or chopped fresh strawberries
2 tablespoons sugar
½ teaspoon cinnamon
Pinch of salt
Topping
1 cup all-purpose flour
½ cup oats
½ cup sugar, preferably brown
¼ teaspoon cinnamon
Pinch of salt
½ cup butter or non-hydrogenated margarine, melted
Directions for Preparation
Filling
Preheat oven to 350°. Grease a deep baking dish that is about 11 inches by 7 inches.
Add the red fruit to the dish and sprinkle with the sugar, cinnamon, and salt.
Topping
In a medium bowl, combine flour, brown sugar, salt, and cinnamon. Pour in the melted butter/margarine and stir until mixture looks like peas.
Sprinkle crumb topping evenly over the fruit.
Bake until the topping is golden brown, and the fruit is bubbling, about 35-45 minutes.
For an added nutrition boost, add a tablespoon of hemp hearts or chia seeds to the fruit filling.
Return to Recipes List