Main Course: Roasted Sweet Potato and Wild Rice Casserole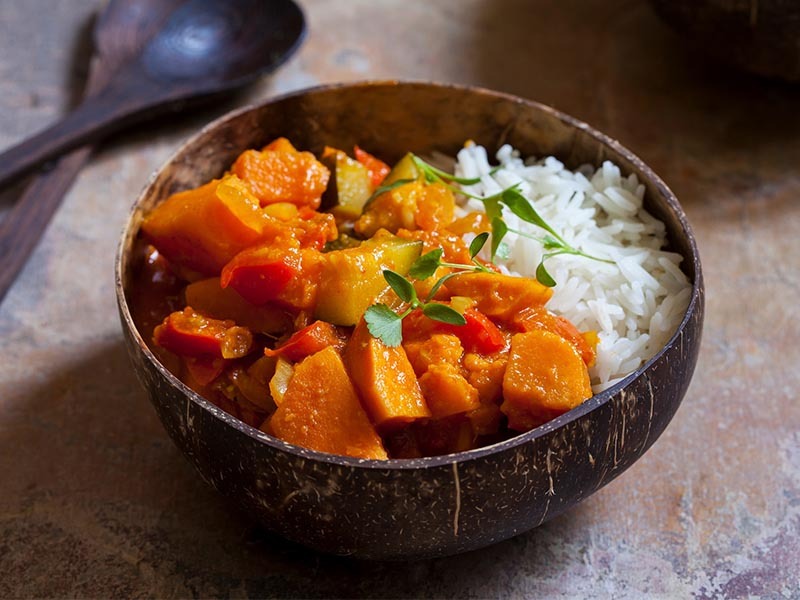 Ingredients
A filling and healthy side dish that is a winner every time!
3 tablespoons vegetable oil
1 medium onion, finely chopped
2 cloves garlic, minced
2 cup wild rice, or any wild rice blend (plain parboiled rice works too)
4 cups low-sodium broth (any kind) or water
2 cups sweet potatoes, peeled and cut into small cubes
½ teaspoon dried sage or poultry seasoning fresh sage, thinly sliced
2 green onions, thinly sliced
Salt and Pepper, to taste
Directions for Preparation
Preheat the oven to 375°F.
In a large pot on medium heat, add 1 tablespoon of oil and sauté onion and garlic until soft, about 5 minutes.
Add the rice and broth to the onion mixture. Bring to a boil on high heat, with the lid uncovered. Then reduce heat to medium and cover the pot with the lid. Let simmer for 20 minutes.
Meanwhile, toss the sweet potato with the rest of the oil, salt, and pepper.
Place on baking sheet and roast until tender, approximately 20 minutes stirring once or twice.
Once the rice is cooked, stir in the sweet potato, sage and green onions.
Idea: Add chopped toasted walnuts or almonds for added flavour and crunch
Return to Recipes List