Main Course: One Pan, Peach Glazed Chicken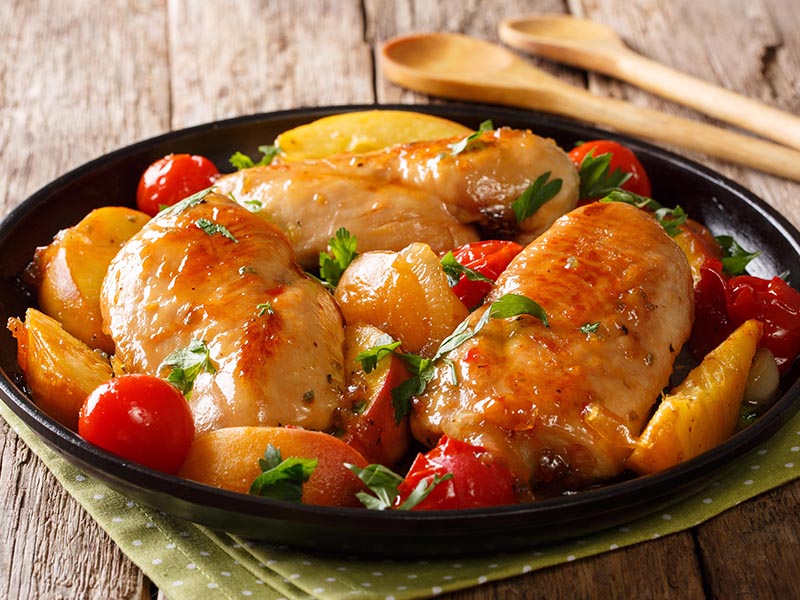 Ingredients
4 teaspoons vegetable oil
8 chicken thighs or drumsticks, skin removed
1 onion, finely chopped
½ teaspoon dried thyme or parsley
¼ cup brown sugar
2 tablespoons vinegar or lemon juice
·2 teaspoons mustard
3 medium ripe peaches pitted and chopped
Salt and pepper to taste
Directions for Preparation
Heat 2 teaspoons of oil in a large frying pan over medium-high heat.
Add the chicken to the pan and cook for about 10 minutes per side, or until cooked through and golden brown.
Set chicken aside in a covered container. To the same frying pan, add the rest of the oil, onion, and thyme or parsley.
Add the rest of the ingredients and cook for about 10 minutes, stirring often.
When the sauce is sticky, return the chicken to the frying pan and heat through.
While we love cobblers and pies, peaches are so good in chicken dishes too. In this dish, they create a sticky and sweet, finger-licking sauce.
Return to Recipes List