S'mores Recipes You'll Love for Summer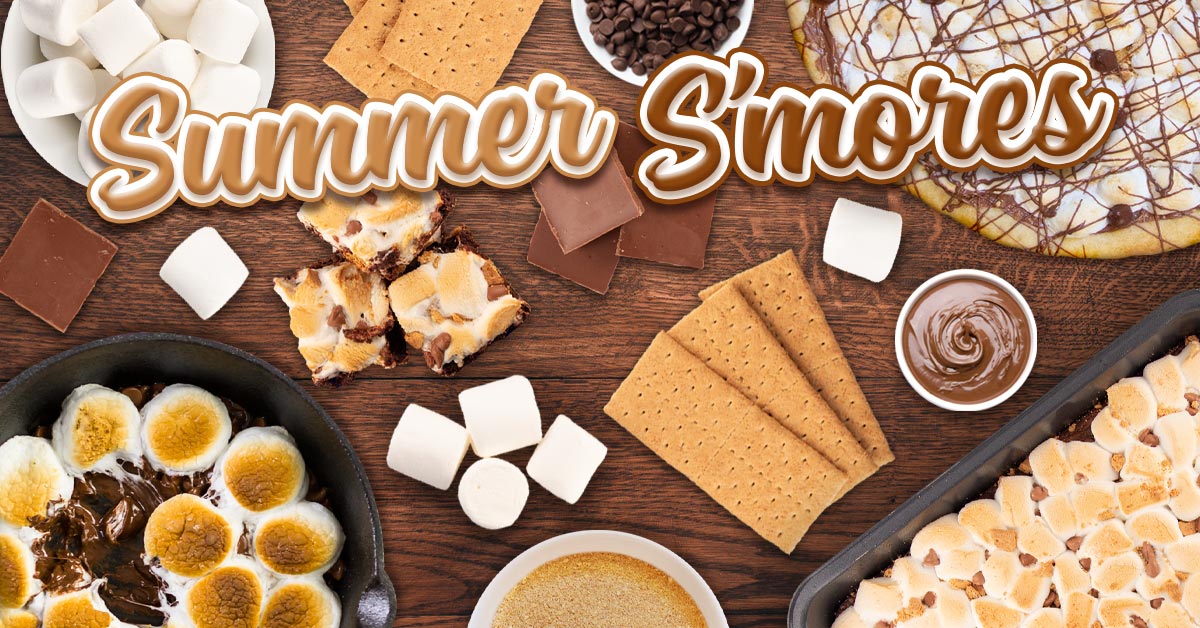 Summer is here, the season for camping, beach days, picnics, and more. It's a perfect time to indulge in life's sweet delights, and what's a better way to treat yourself than snacking on some S'mores? There's no better combination than creamy chocolate, gooey marshmallows, and crunchy graham crackers. The S'more is a summer staple, often eaten by the campfire, as we attempt to roast marshmallows to that perfect golden brown.
While we all know how to make a traditional s'more, there are countless ways this summer treat can be made and eaten! Below are three different ways you can make s'mores - brownies, dip, and pizza! These recipes are a must-try and will surely impress your friends and family at your next summer BBQ.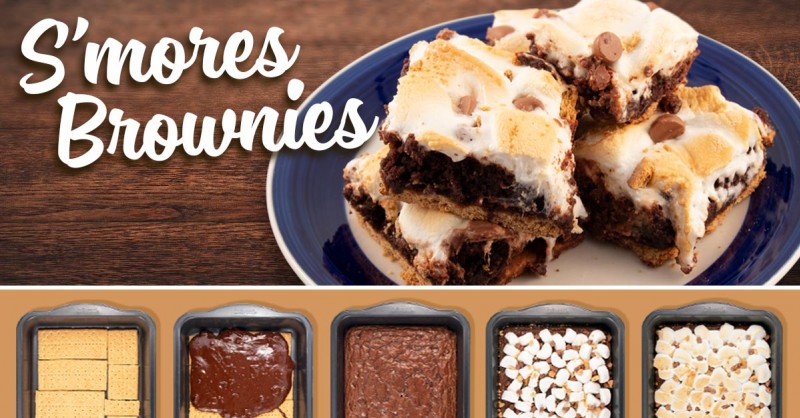 Ingredients:

1 box of brownie mix plus needed box ingredients
1/2 bag of mini marshmallows (can substitute for regular marshmallows halved or quartered)
1 pack graham crackers
Optional: Handful of chocolate chips
Instructions:
Preheat oven to 350 degrees F.
Prepare brownies in a bowl according to box directions.
Line a 9 x 13 in. pan with parchment paper (can also grease) and lay graham crackers over entire bottom of pan.
Pour brownie mix on top of graham crackers.
Bake for instructed time on brownie box (approximately 25-30 minutes or until toothpick comes out clean). Tip: Can use other sized baking pans for this recipe to make thinner or thicker brownies, just be sure to adjust cooking time according to instructions on box.
Remove from oven and add marshmallows on top of cooked brownies evenly.
Crush 1 graham cracker and sprinkle on top of marshmallows as well as handful of chocolate chips.
Put back in the oven for approximately 5 minutes or until tops are starting to brown
and remove from oven. Make sure to keep an eye on marshmallows as they can burn easily.
Cut into squares and enjoy!
Ingredients:
2 cups of milk chocolate chips OR 5-6 full sized chocolate bars broken into pieces
Bag of regular-sized marshmallows
Graham crackers for dipping
Instructions:
Preheat oven to 400 degrees F.
Layer chocolate chips evenly over the bottom of cast iron skillet. If using a regular pan, grease before with cooking spray.
Add an even layer of marshmallows on top of chocolate.
Bake for 8 to 10 mins or until marshmallows are puffy and brown on top. Make sure to keep an eye on marshmallows as they can burn easily.
Remove from oven and let sit for 5 minutes to allow chocolate to further melt.
Serve immediately with graham crackers for dipping.
Can replace milk chocolate chips with semi-sweet or combo of both. Amount of chocolate and marshmallows may vary depending on size of pan used.
Ingredients:
1 pizza crust cooked (Pillsbury pizza crust used in image)
Chocolate hazelnut spread or melted chocolate chips
½ bag of mini marshmallows
Handful of chocolate chips
1-2 graham crackers crushed
Optional: Chocolate sauce or melted chocolate for drizzling on top
Instructions:
Prepare/cook pizza crust.
Spread chocolate hazelnut spread over top of pizza crust. If using chocolate chips, melt in microwave with microwave safe dish stirring every 20 seconds to prevent burning the chocolate until melted. Tip: If cooking crust, place un-melted chocolate chips on top immediately after removing crust from oven and let sit for a few minutes and chips will begin to melt then spread out evenly over crust.
Spread mini marshmallows, crushed graham crackers, and chocolate chips evenly on top. Do not double layer marshmallows.
Broil for 3-5 minutes or until marshmallows are puffy and brown then remove from oven. Make sure to keep an eye on marshmallows as they can burn easily. Tip: place on lower rack to help prevent burning.
Drizzle chocolate sauce or melted chocolate across top of pizza to finish.
Cut and serve warm.
Pizza crust options are endless. You can use a pre-cooked, homemade or even a cookie crust with this recipe.