Dessert: Summer Fruit Topped Cake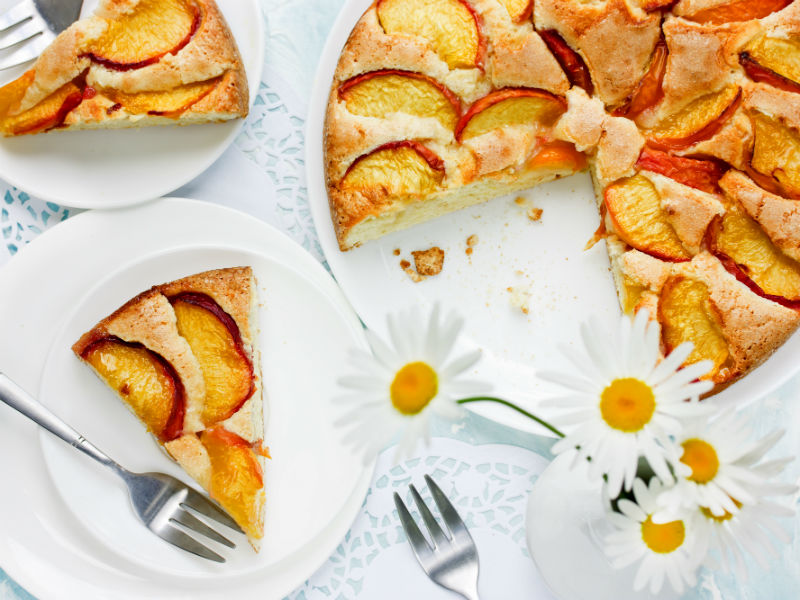 Ingredients
This easy cake topped with fresh summer fruit will disappear when friends and family are over. It is delightful on its own but can be served with a scoop of fresh or frozen vanilla yogurt.
1½ cups all-purpose flour
1 ½ teaspoons baking powder
1 teaspoon cinnamon
¼ teaspoon nutmeg (optional)
Dash salt
¼ cup + 2 tablespoons cold non-hydrogenated margarine or butter
½ cup sugar + 1 teaspoon (for dusting the finished cake)
1 teaspoon vanilla
1 egg
½ cup milk
2 cups or about 6 plums or peaches, pitted and sliced
Directions for Preparation
Preheat the oven to 350°F. Grease a round or square 9" baking pan.
In a medium bowl, stir together the flour, baking powder, salt and spices.
In a large bowl, use an electric mixer to whip the margarine, ½ cup sugar and the vanilla until fluffy.
On low, add the egg until combined.
Slowly add half of the milk then half of the flour mixture until smooth.
Repeat until all the dry and wet ingredients are combined and the batter is smooth. The batter will be thick.
Pour the batter into the greased pan and level off with spatula or a big spoon until the top is flat.
Arrange the fruit on top, skin side down in a circle so that the fruit completely covers the batter. Don't be shy to push the batter down to squeeze in all the fruit.
Sprinkle with the remaining sugar and bake until the sides turn golden brown and the centre of the cake is set.
To pit the fruit, slice with a serrated knife along the seam and twisted the fruit open. Take the half of the plum with the pit and place it pit-side down on a cutting board. Gently slice lengthwise segments around the pit then gently pull away the slices.
Return to Recipes List