Dessert: Creamy Orange Fruit Salad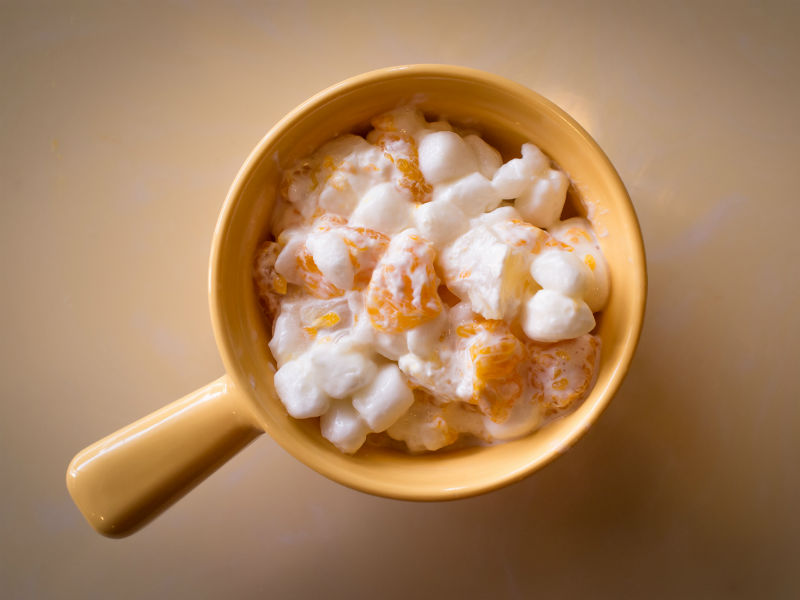 Servings: Ten 3/4 cup servings
Preparation time: 10 minutes
Cooking time: 0 minutes
Ingredients
1 small can mandarin oranges, about 284 ml (drained)
1 small can crushed pineapple, about 398 ml (drained)
1 package (85 g) orange jello
1 container (500 g) cottage cheese
2 cups whipped topping (made from powder) or frozen whipped topped, thawed
½ cup toasted coconut, preferably unsweetened
Directions for Preparation
In a large frying pan on medium-heat, add the coconut. Stir constantly until golden brown. Remove from the heat.
In a large bowl, mix together the fruit, jello, cottage cheese and coconut until well combined. Gently fold in the whipped topping.
Chill for a few hours before serving.
This creamy version does have more sugar than the traditional fruit salad. It also has protein-rich cottage cheese which helps slow down sugar from breaking down too quickly in your body. Satisfy your sweet tooth with a small bowl that equals to a ¾ cup portion.
Return to Recipes List