Main Course: Easy Pizza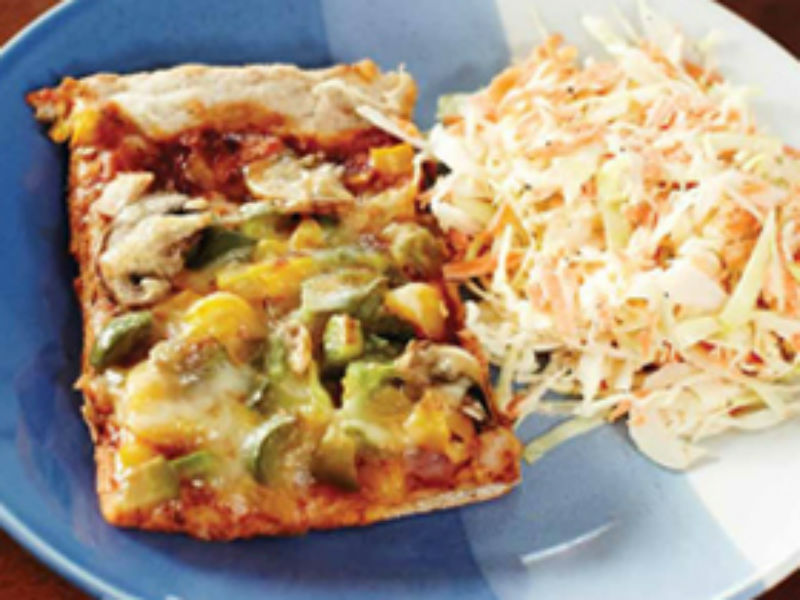 Ingredients
1½ cups white flour
1 cup whole wheat flour
2 teaspoons baking powder
½ teaspoon salt1 cup water
4 tablespoons oil
Suggested Toppings
1 cup pizza sauce
1-2 cups cooked lean meat (caribou or muskox, ground beef, chicken, turkey or ham)
500 grams (1 pound or about 3 cups) shredded cheese
Directions for Preparation
Preheat oven to 450°F
Mix together flour, baking powder and salt.
Add oil and water. Stir well. Add more flour, if the mixture seems wet.
Knead the dough for 2 or 3 minutes, until it's smooth and pulls away from the sides of the bowl easily.
Spread out on greased baking sheet, leaving slightly thicker around the edges.
Add the ToppingsSpread tomato sauce evenly on crust.
Add vegetables and other toppings of your choice.
Sprinkle cheese evenly over the toppings.
Bake for 12 to 15 minutes. Enjoy!
For a faster pizza, use pita bread, tortillas or English muffins as a crust. Put the bread on a cookie sheet, add the toppings and bake at 450°F (230°C) for 7-10 minutes
Return to Recipes List