Main Course: Cheesy Baked Omlette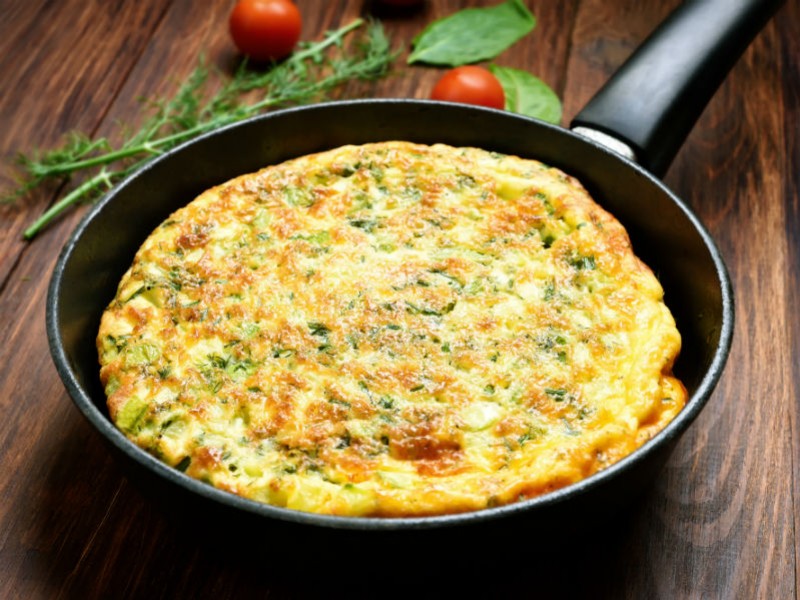 Servings: 8
Preparation time: 15 Minutes
Cooking time: 40-45 Minutes
Ingredients
1 onion, finely chopped
2 tablespoons, oil
1 large package (500g) frozen broccoli
12 eggs
1 can evaporated milk
1 ½ cups shredded cheddar cheese
1 teaspoon salt
½ teaspoon ground pepper
Directions for Preparation
Preheat oven to 350°F
Coat the baking dish with oil.
Add oil to frying pan and cook onion on medium-high, until soft.
Add broccoli and cook for another 2 or 3 minutes, until there is not much water in pan. Remove from heat.
Beat together the eggs, evaporated milk, salt and pepper.
Stir the onion, broccoli and cheese into the egg mixture.
Pour this mixture into the greased baking dish or dishes.
Bake for 30 to 40 minutes, until the top is turning brown.
Tip: Not all ovens cook the same. Check the omelette after 25 minutes, to see if it is firm and browned.
Return to Recipes List