Main Course: ​Slow Cooker Pulled Beef Sandwiches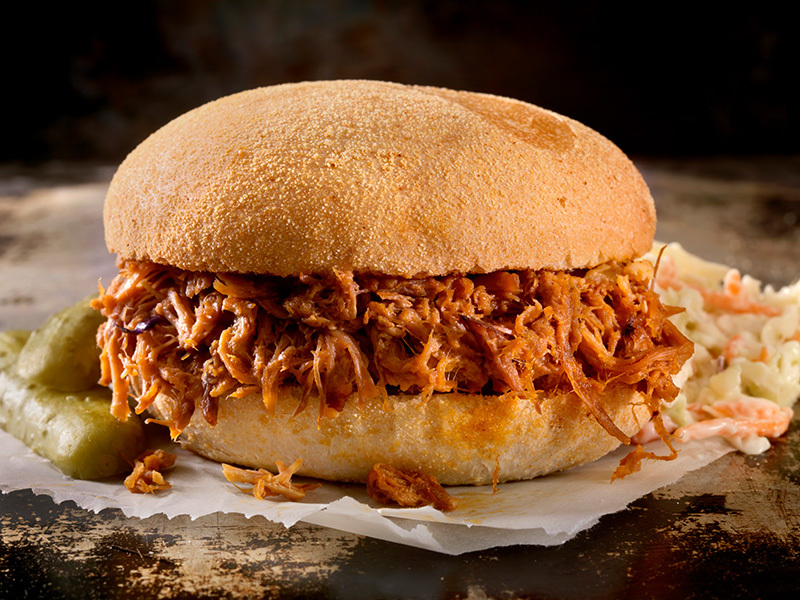 Servings: 8-10 servings
Preparation time: 15 minutes
Cooking time: 4-6 hours
Ingredients
This slow cooker recipe is great to use all year round. This moist and flavourful beef can be stuffed into any type of bun or served on top of mashed potatoes.
4 lb (2 kg) beef pot roast, boneless (can also use moose, deer or caribou)
Salt and pepper
2 cups water
1 can (156 mL) tomato paste
1 teaspoon chili powder
1 teaspoon garlic powder
1 onion, sliced into wedges
½ cup BBQ sauce
2 – 4 tablespoons cornstarch
Directions for Preparation
Sprinkle the roast all over with salt and pepper. Brown in lightly oiled frying pan over medium high heat. Set inside the slow cooker.
In a medium bowl, add the tomato paste. Slowly add 1 cup of water stirring constantly until smooth. Stir in the rest of the water and the chili/garlic powder.
Cover the roast with the tomato water mixture. Add the onion wedges. Cover with the lid.
Cook on high for 4-6 hours or on low for 8-10 hours.
Remove the cooked roast to large bowl.
Pour the broth into a pot and bring to a low boil. Add the BBQ sauce.
In small cup, combine the cornstarch with the same amount cold water until smooth. Add a few tablespoons of the boiling broth to the cup. Stir until smooth.
Slowly stir in the corn starch mixture into the boiling broth. Stir continuously until it thickens. After 2 minutes, if the broth is not thick enough, repeat step #6 with the remaining 2 tablespoons of corn starch.
Use 2 forks to pull the beef apart to shred it into smaller pieces.
Add enough sauce to the meat so it stays moist.
Serve the beef with the extra sauce that can be spooned into sandwiches or topped onto mashed potatoes.
Return to Recipes List