Main Course: ​Homestyle Tuna Pot Pie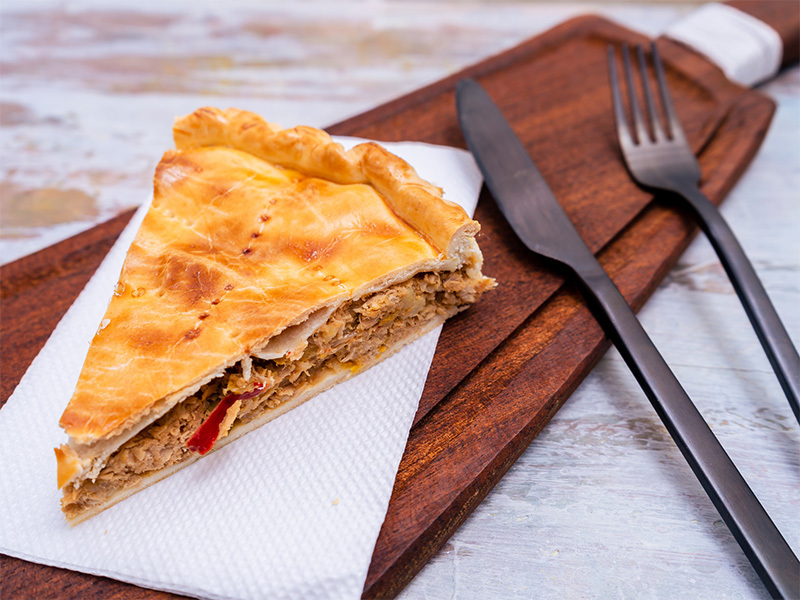 Servings: 4-6 portions
Preparation time: 10 minutes
Cooking time: 35 minutes
Ingredients
Pot pie is the ultimate comfort food. This recipe uses canned tuna and a thick creamy gravy to create a quick and filling family meal.
1 package (300 grams) pie crust (2 crusts), at room temperature
1 can cream of chicken or mushroom soup
1/2 cup milk
2 cans (170 grams) light tuna, well-drained
2 cups frozen peas and carrots, thawed
1 cup shredded cheese
Directions for Preparation
Easy directions
Preheat the oven to 400 degrees °F.
Line the bottom of a 9-inch pie plate with 1 pie crust. Trim any extra pie crust hanging over the pie plate.
In a large mixing bowl, stir together the soup, milk, tuna, and vegetables.
Spoon the chicken mixture into the pie plate. Sprinkle with 3/4 cup cheese.
Place the remaining pie crust over the filling.
Crimp the edges of the top and bottom crusts together.
Using a fork, poke many holes into the top of the pie.
Bake for 35 minutes or until the crust is golden brown. Sprinkle the crust with the remaining cheese and cook for 2 minutes until cheese is bubbling.
Let cool for 15 minutes before slicing.
Return to Recipes List