Main Course: ​One-Pot Mango Chicken Casserole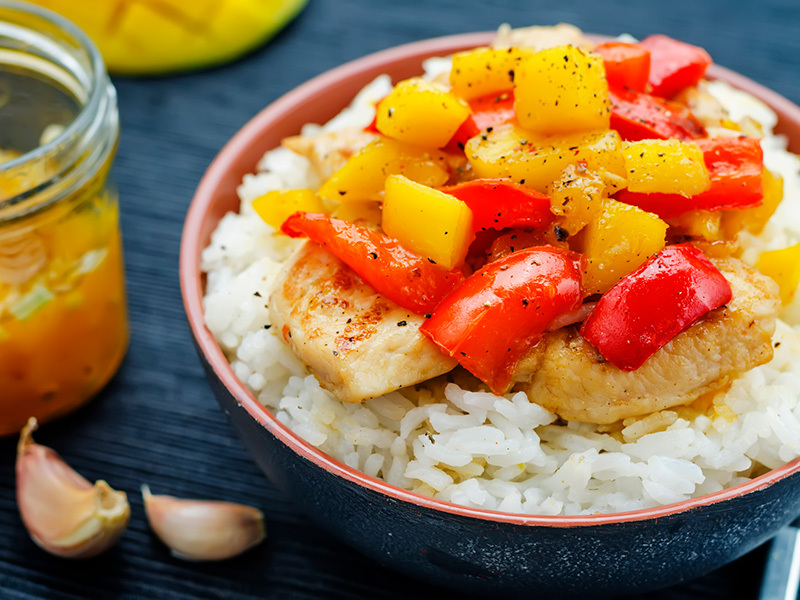 Servings: 6-8 Servings
Preparation time: 2 minutes
Cooking time: 30-40 minutes
Ingredients
A quick hunger crushing soup for a cold winter's day.
2 tablespoons vegetable oil
8 chicken thighs, skin removed
1 onion, chopped
2 cloves garlic, chopped or ½ teaspoon garlic powder
2 cups frozen chopped vegetables
1 jar (About 400 mL) mango salsa or regular tomato salsa
4 cups parboiled or white rice
6 cups water or chicken stock
½ teaspoon chili flakes (optional)
Directions for Preparation
In a large pot, heat the oil on medium heat. To the heated pot, add the chicken thighs, 4 tablespoons mango salsa, onion and fresh garlic or garlic powder.
Stir and flip the chicken after a few minutes. Cook until the chicken thighs are browned, and the onion is soft, about 10 minutes.
Remove the chicken and set aside.
To the same pot, add the rest of the ingredients except the salsa.
Bring up to a boil, lower the heat to low and cover the pot with the lid.
After 10 minutes, stir in half of the leftover salsa into the rice. Place the chicken on top of the cooking rice topped with the rest of the mango salsa.
Cover with a lid and cook for another 10 to 15 minutes or until the rice is fluffy.
Return to Recipes List