Main Course: Summer Sizzling Healthier BBQ Meal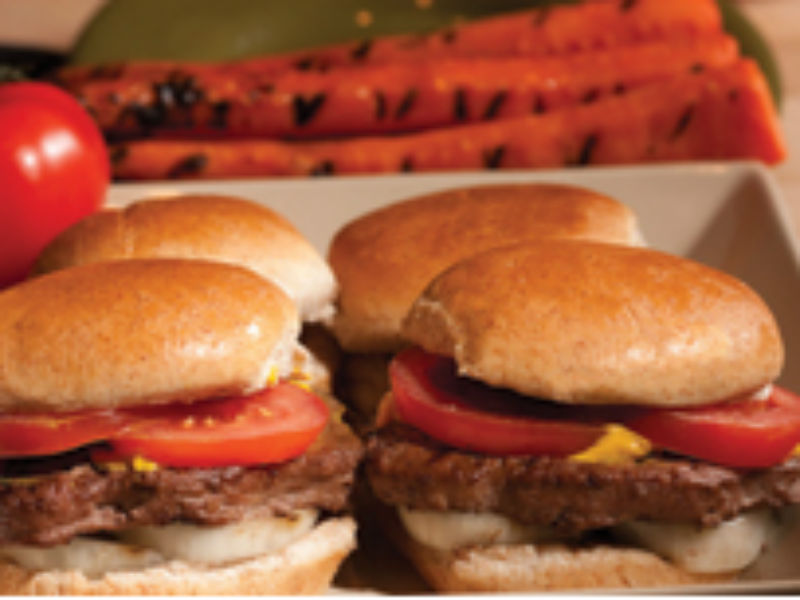 Servings: 4
Preparation time: 15 Minutes
Cooking time: 20 Minutes
Ingredients
1 lb lean ground beef or 4 lean burger patties, defrosted
4 100% whole wheat hamburger buns
2 medium tomatoes, cut into slices
3 medium onions, cut into thick rings
4 carrots, washed
1 tablespoon of any type of salad dressing
1 teaspoon of canola oil
Directions for Preparation
Drop 4 carrots into a pot of boiling water for 8 minutes. Remove and let cool.
If using lean ground beef, form 4 equal-sized balls & squeeze between your hands to form patties. Wash hands. If using lean frozen patties, skip this step.
Toss sliced onions and boiled carrots in a bowl with the oil and the remaining salad dressing.
On a hot BBQ grill, place hamburger patties & vegetables. Lower to medium heat.
After 6 minutes, flip & lower to minimum.
After 10 minutes, check meat for doneness.
Using a clean spatula (flipper), remove vegetables and meat.
Build burgers with onions, mustard and sliced tomatoes.
Eat the carrots on the side or sliced and stuffed inside the burger (try it; it's delicious).
Return to Recipes List