Main Course: Brunch Mini Quiches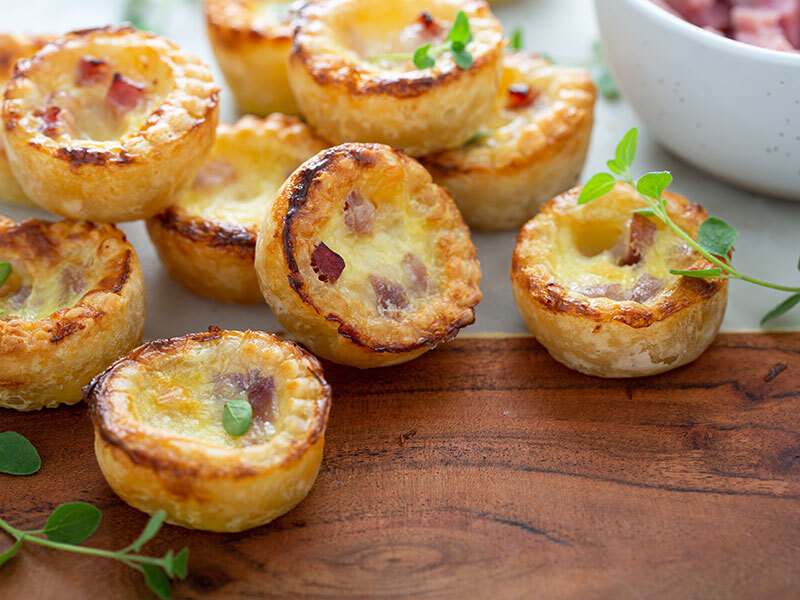 Servings: 12 tarts
Preparation time: 15 minutes
Cooking time: 25-30 min
Ingredients
These delicious little quiche tarts are perfect for an Easter brunch or to make ahead of time for an easy breakfast during the week.
Frozen tart shells (12 small tarts)
1 white onion, diced or 2 green onions, sliced
1 carrot, grated
2 teaspoons vegetable oil
1 package (about 375 grams) sliced ham, turkey, or chicken deli meat, chopped (optional)
1 cup shredded cheese
4 eggs
½ cup milk
¼ teaspoon black pepper
½ teaspoon dried thyme or dried parsley (optional)
Directions for Preparation
·
Preheat oven to 350 degrees F. Place tart shells into muffins tins.
Bake the empty shells the until edges are lightly browned, about 8 minutes.
In a frying pan, fry the onion and carrot in the oil until softened. Stir in the sliced meat (optional).
Divide half of the cheese evenly into the tart shells, followed by the vegetable mixture.
Whisk eggs, milk, black pepper, and thyme/parsley together in a bowl. Ladle egg mixture into each tart shell about 2/3 full.
Top each tart with the leftover cheese
Bake in the preheated oven until egg is set in the middle of each tart and shells are browned, about 25 to 30 minutes.
If there is leftover egg mixture, make scrambled eggs in the same pan used to cook the vegetables.
Return to Recipes List