Main Course: Cheesy Baked Pasta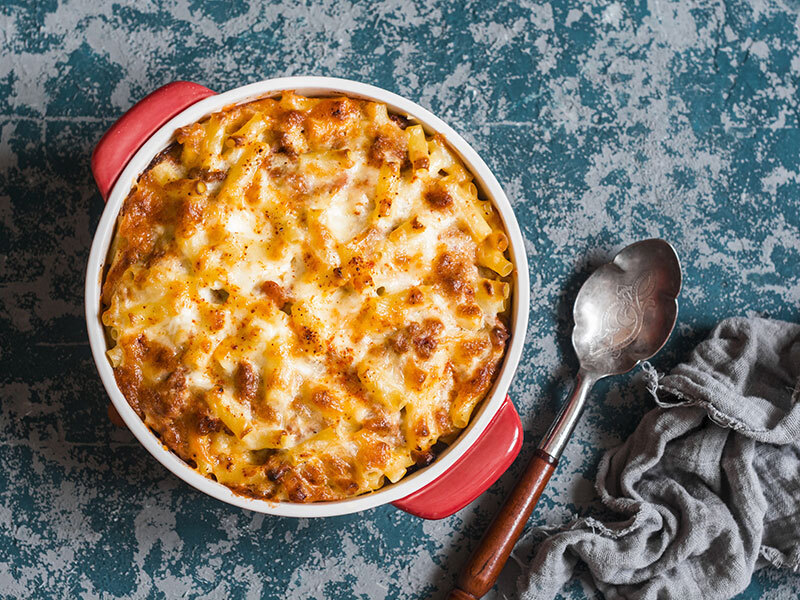 Servings: 6 servings
Preparation time: 15 minutes
Cooking time: 45 minutes
Ingredients
Whip up this Italian pasta dish with everyday ingredients in no time.
1 small bag or box (300 – 400 grams) noodles, any shape or size
1 container (500 grams) cottage cheese
1 ½ cups shredded cheese
1 teaspoon dried basil or oregano or dried Italian seasoning.
1 jar or can tomato sauce
Directions for Preparation
Boil the noodles until they just began to soften. Do not overcook. Drain and set aside.
Preheat the oven to 375 ° F. Grease a 13 x 9-inch baking dish.
In a bowl mix together the cottage cheese, 1 cup of the shredded cheese (set aside the other ½ cup) and the herbs.
Pour half the sauce in the bottom of the baking dish. Top with the cooked noodles.
Spoon on the cottage cheese mixture. Top with the leftover tomato sauce.
Sprinkle with the remaining shredded cheese.
Cook for 30 minutes or until the cheese is golden brown. Let sit for 10 minutes before serving.
Return to Recipes List