Main Course: Speedy Fully Loaded Veggie Pizza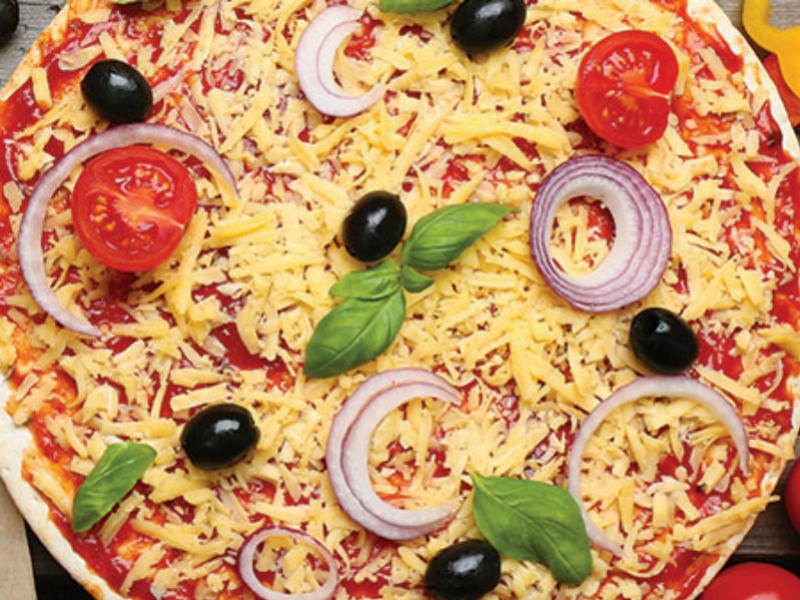 Servings: 6 Slices
Preparation time: 10 Minutes
Cooking time: Approximately 20 Minutes
Ingredients
A frozen cheese pizza with a few added fresh toppings is a quick, easy and healthy meal option when you are pressed for time and the kids are hungry.
1 medium frozen cheese pizza, 12"
green pepper, very thinly sliced
1/2 medium red onion, very thinly sliced
1/4 cup canned pineapple tidbits, well drained
2 tablespoons grated parmesan cheese
*2 tablespoons fresh basil, chopped or ½ teaspoon dried basil or oregano (optional)
Directions for Preparation
Preheat the oven as per the oven temperature on the pizza box.
Top the pizza first with the onions, then pepper, then pineapple.
Sprinkle with parmesan cheese and herbs.
Place in the oven and cook as directed on the pizza box.
For a balanced meal, enjoy the pizza alongside tossed salad and a fruit or yogurt for dessert. Vegetables as pizza toppings are a healthier alternative to the fatty cuts of meat such as pepperoni and bacon usually used as toppings. Veggies are also an excellent source of disease-fighting antioxidants and gut healthy fibre.
234 Calories (kcal), 9.7 g Fat, 514 mg Sodium, 28.5 g Carbohydrate, 1.5 g Fibre, 10.1 g Protein per slice.
*Recipe provided and tested by Suzanne Hajto, Registered Dietitian.
Return to Recipes List