Dessert: Date Squares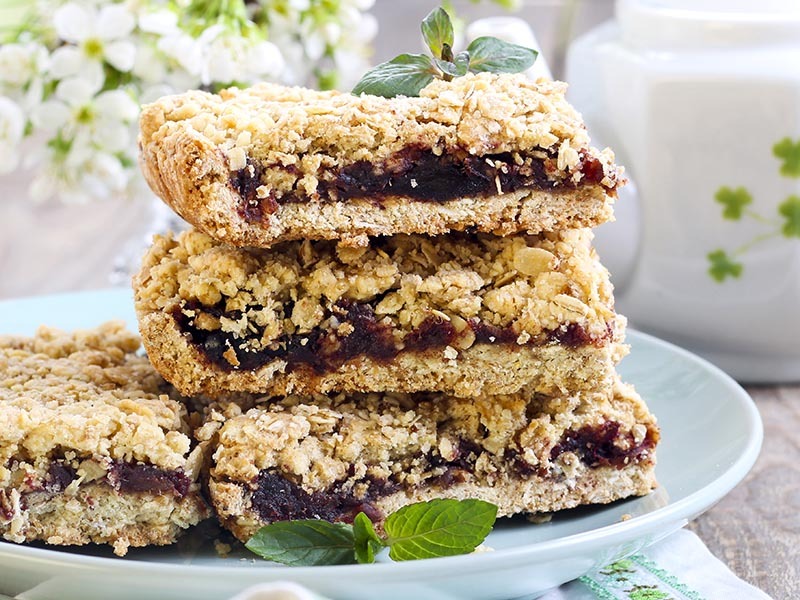 Servings: 10-12 Squares
Preparation time: 15 minutes
Cooking time: 45-55 minutes
Ingredients
This date-filled bar with a chewy oatmeal crust is the perfect sweet treat to serve visitors over the holidays.
Filling
1 package dates (500 grams)
1 cup frozen blueberries
½ cup (250 ml) water
Oat topping
½ cup sugar
½ cup butter
¼ cup milk
½ cup flour
2 cup oats
¼ cup chia seeds or hemp hearts (optional)
Directions for Preparation
In a medium pot, bring the first three ingredients to a boil. Stir constantly until the dates have fallen apart. Let cool.
Heat the oven to 350 °F (180 °C). Place the rack in the middle position. Oil a 7"x 11" or 8" x 8" baking dish.
In a bowl, Stir together the sugar, butter, and milk until smooth. Stir in the flour, oats and the chia seeds or hemp hearts (optional) until combined.
Spread half the oat mixture into the baking dish and pack it down.
Layer with the date mixture.
Cover with the remaining oat mixture and press down lightly.
Bake for 45-55 minutes or until the topping is golden brown. Let cool.
Cut into squares and store in the fridge.
Return to Recipes List