Dessert: Strawberry Shortcake Bread Pudding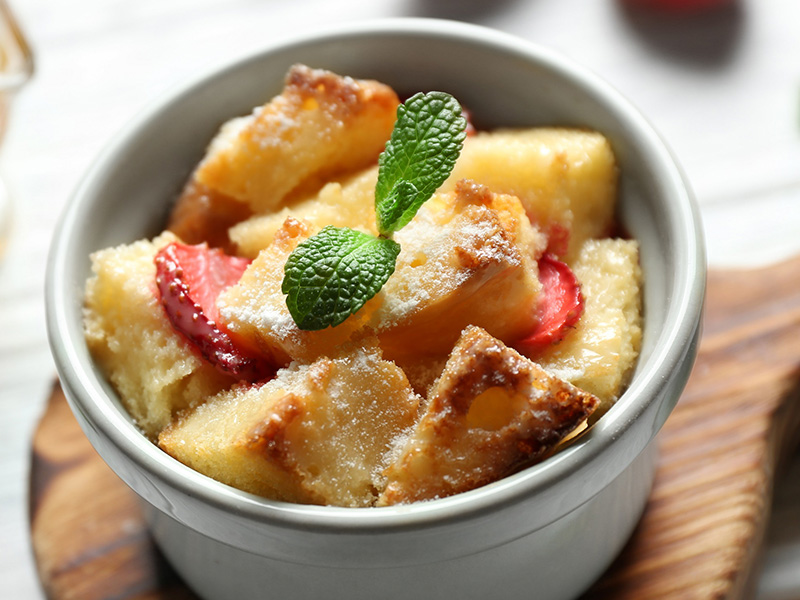 Servings: 8 servings
Preparation time: 15 minutes
Cooking time: 40 minutes
Ingredients
1 loaf (about 20 slices) whole wheat bread (not the ends)
6 eggs
1 can (370) ml evaporated milk
1 teaspoon vanilla extract
½ teaspoon cinnamon
2 cups strawberries (fresh or frozen), sliced
1/2 cup white sugar
Directions for Preparation
In a large bowl, beat the eggs, milk, cinnamon, vanilla and the sugar.
Tear the bread into little pieces and put them in the bowl. Stir until all the bread is coated in the milk mixture.
Let sit at least 2 hours but overnight is best.
Preheat oven to 350°F. Grease a 9" x 12" baking pan.
Meanwhile, slice the strawberries and stir into the bread mixture.
Pour the bread mixture into the greased baking dish.
Bake for 40-45 minutes or until edges start turning golden brown. Let cool 10 minutes.
Serve with yogurt and a drizzle of maple syrup.
The votes are in and mom wants breakfast in bed on Mother's Day. Here is the perfect recipe to make her feel the love.
Return to Recipes List