Main Course: Gran's Meatloaf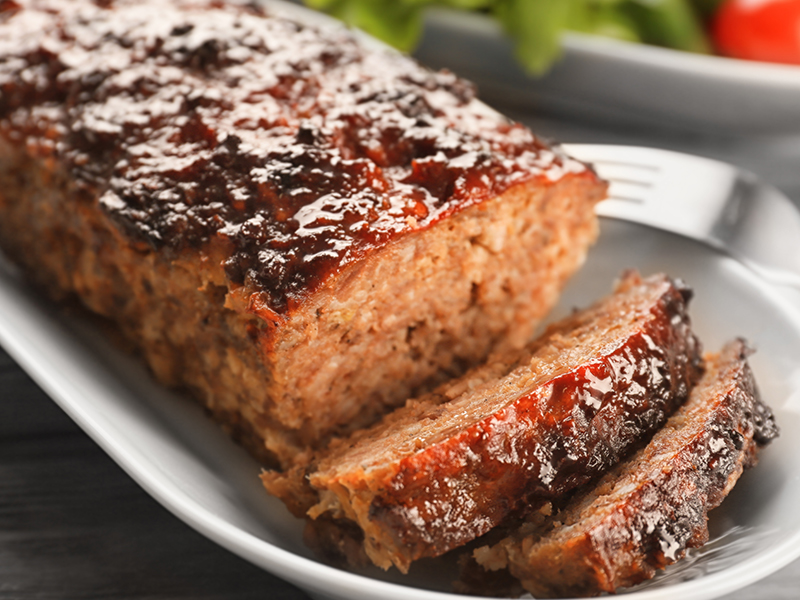 Ingredients
1 tablespoon vegetable oil
1 large onion, chopped
3 garlic cloves, minced or ½ teaspoon garlic powder
1 pound ground meat
½ cup breadcrumbs or 1 bread slice torn into pieces
1 egg
1 teaspoon Worcestershire sauce or soy sauce
3 tablespoons ketchup
Directions for Preparation
Preheat oven to 350 ̊F.
Add the oil to a frying pan.
Cook the onion and garlic in the pan for 5 minutes, stirring occasionally.
Place the onion mixture into a large bowl and cool 5 minutes.
Into the large bowl, mix together the rest of the ingredients except the ketchup.
Press the meat mixture into an 8x4 - inch loaf pan or shape into a loaf on a cookie sheet.
Spread the ketchup on top.
Bake for 50-55 minutes. The internal temperature should reach at least 165 ̊F degrees.
Remove from oven. Let sit for 5 minutes before slicing and serving.
This is a Sunday favorite. Double the recipe to have meatloaf sandwiches for lunch the next day. Serve with half a plate of your favorite vegetables and ¼ plate of potato or corn.
Return to Recipes List