Main Course: Baked Mac n' Cheese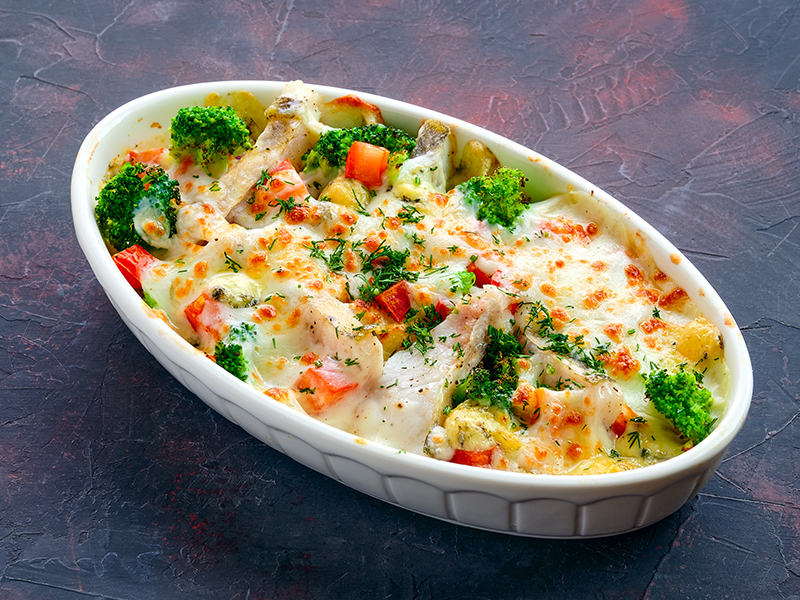 Servings: 4-5 servings
Preparation time: 15 minutes
Cooking time: 35-45 minutes
Ingredients
1 box noodles and cheese
1 cup frozen mixed vegetables like California mix, thawed
2 cups milk
1 cup shredded cheese
¼ cup crushed crackers like soda cracker or breadcrumbs
Directions for Preparation
Preheat the oven to 350° F. Grease an 8-inch by 8-inch baking pan.
Place the noodles on the bottom of the dish.
Top with the frozen vegetables.
Optional step: If you like smaller pieces of vegetables, chop the thawed frozen vegetables before adding them to the dish.
In a small bowl, stir together the cheese powder pouch, the milk, and half of the cheese.
Pour into the baking dish.
Top with the remaining shredded cheese and then the crushed crackers/breadcrumbs.
Bake for about 35 minutes or until the noodles are soft and the top is golden brown.
This is a half-from-scratch recipe that uses your favorite box of cheesy noodles. This recipe can be easily doubled by using a 9-inch x 13-inch pan instead.
Return to Recipes List