Main Course: Mandarin Glazed Baked Ham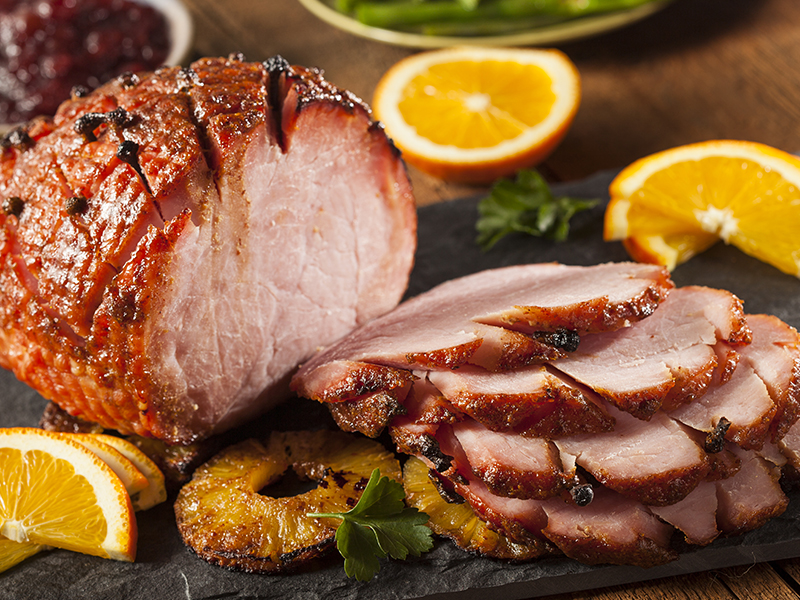 Ingredients
1 ham, 800 grams
4 mini mandarins, peeled, seeds removed and chopped
2 tablespoons brown sugar
Directions for Preparation
Preheat the oven to 375 F°.
In a small bowl, mix together the mandarins and the brown sugar. Use the gritty sugar to help grind the mandarins so the mixture becomes more of a paste consistency.
Line a baking pan with aluminum foil.
Place the ham in the pan and rub with the brown sugar mandarin mixture.
Cover with another piece of aluminum foil.
Bake for 45 minutes. For the last 15 minutes remove the foil.
Let cook for at least 15 minutes before slicing into thin pieces.
For a balanced meal, serve the ham with potatoes and a vegetable like steamed broccoli or green beans. Sweet juicy mandarins add the right amount of citrus flavor to this super simple glaze.
134 Calories (kcal), 2.7 g Fat, 1061 mg Sodium, 0.6 g Fibre, 19.1g Protein per serving
Return to Recipes List