Main Course: Creamy Pasta Salad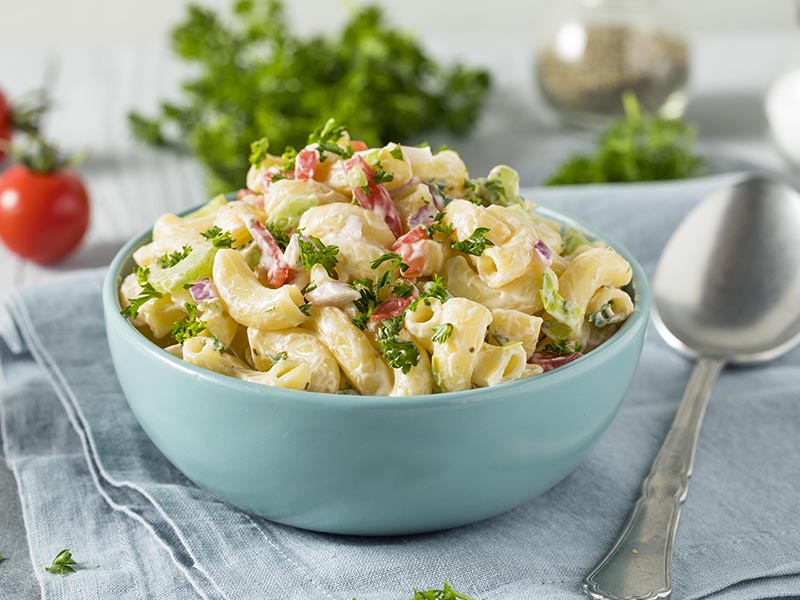 Ingredients
Creamy Dressing:
1 ½ cups milk
¾ cup mayonnaise
2 teaspoons mustard
¼ teaspoon garlic powder
½ tsp salt, ½ tsp pepper
1 tablespoon dried herbs like parsley, oregano, basil
¼ cup vinegar
Pasta Salad:
12 oz. (375 g) box or bag of pasta, like macaroni
2 cups canned green beans, rinsed and drained
2 cups carrots, shredded
1 green or red bell pepper, shredded or thinly sliced
Directions for Preparation
For the dressing, stir together all the ingredients. Let stand for 10 minutes or until thickened.
In a large pot of boiling water, cook pasta for 8 to 10 minutes, or until tender.
Drain. Rinse under cold running water until cool. Drain well.
In a large bowl, combine pasta, green beans, carrots, and green or red pepper and the dressing.
This is a creamy and classic pasta salad that will surely please the family. For a nutrient boost, use whole wheat noodles. For a protein boost, add a can of drained tuna.
Return to Recipes List