Main Course: Grilled Romaine Hearts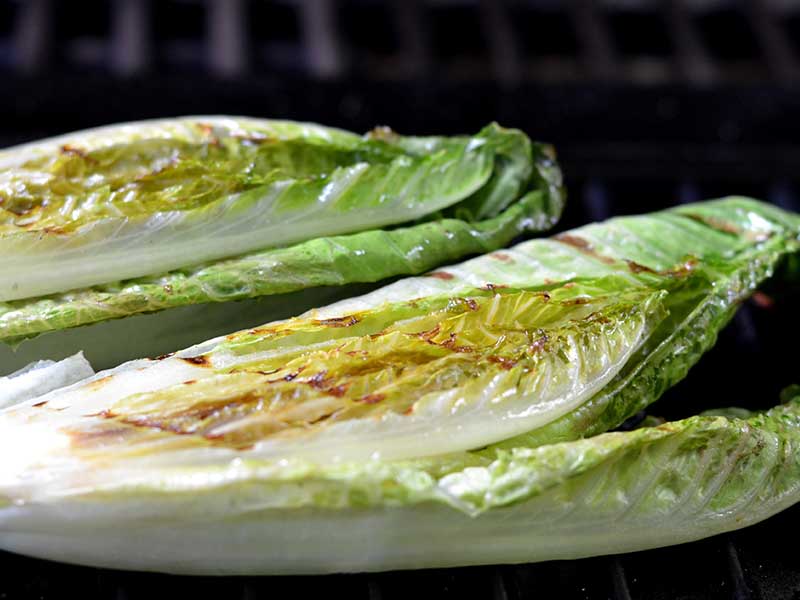 Ingredients
2-3 romaine lettuce hearts
3 tablespoons olive or vegetable oil
2 tablespoons vinegar
1 teaspoon dried herb like rosemary, thyme, oregano, parsley
1/4 teaspoon each salt and pepper
Directions for Preparation
Pull away the old leaves.
Chop about 1 inch off the top of the leaves, so they are all about the same height.
Slice away the brown base of the lettuce, keeping as much as possible since this will help keep the lettuce together while grilling.
Stir together the dressing ingredients in a large bowl.
Bring the bowl of dressing and the lettuce hearts out the hot BBQ.
Right before placing on the grill, dip the top and bottom of the romaine hearts into the dressing.
Place on the hot grill. Repeat with the other romaine hearts.
Save any leftover dressing.
Grill for just a few minutes on each side.
Remove from the grill and let cool.
Roughly chop the lettuce and toss in the remaining dressing. Add any other vegetables like tomatoes and cucumber.
Sturdy romaine hearts can stand up to the heat! In this recipe, we grill them to make a delicious summer salad. This recipe is perfect when don't want to waste the forgotten romaine lettuce hearts at the back of your fridge.
Return to Recipes List