Main Course: Mac N' Cheese Casserole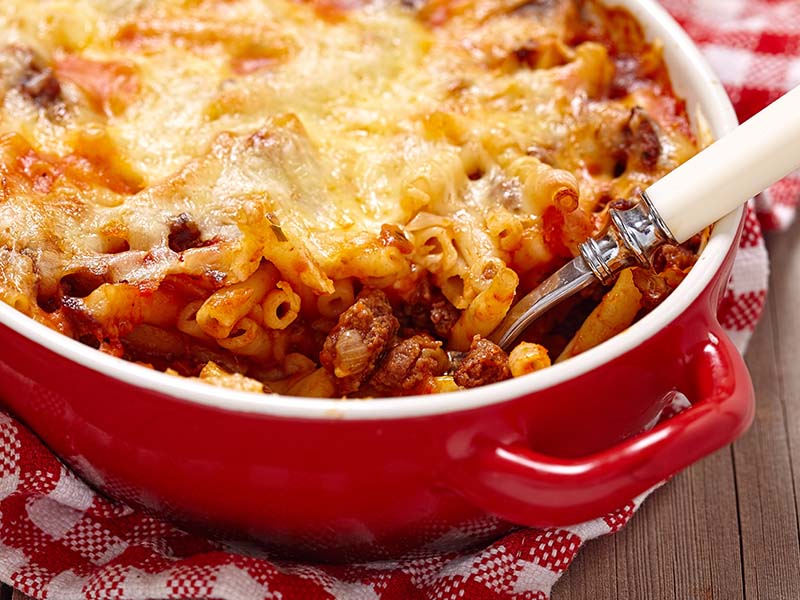 Ingredients
2 cups macaroni noodles
2 pounds ground meat, any kind
2 onions, chopped
4 cloves garlic, chopped or 1 teaspoon garlic powder
2 cups chopped frozen vegetables, any kind
1 can (700 mL) pasta sauce
8 cheese slices or 2 cups shredded cheese
Directions for Preparation
Preheat the oven to 375 F. Grease a deep casserole dish that is about 11 inches x 17 inches.
Cook the macaroni noodles according to the package directions. Drain. Set aside.
In a large frying pan, cook the meat along with the onion and garlic. Stir often breaking it up into smaller pieces. Drain the fat.
Add the frozen veggies to the pan and cook stirring often until they are heated through and soft.
Place the meat mixture in the bottom of the casserole dish.
Layer on the cooked macaroni noodles.
Top with the pasta sauce trying to coat the top all of the noodles in sauce.
Add the final layer of cheese.
Bake for 30 minutes.
This dish is pure comfort food.To lower the salt content of this meal, use 1 large can (796 mL) of no sodium-added diced tomatoes instead of pasta sauce.
Return to Recipes List