Dessert: Strawberry Shortcake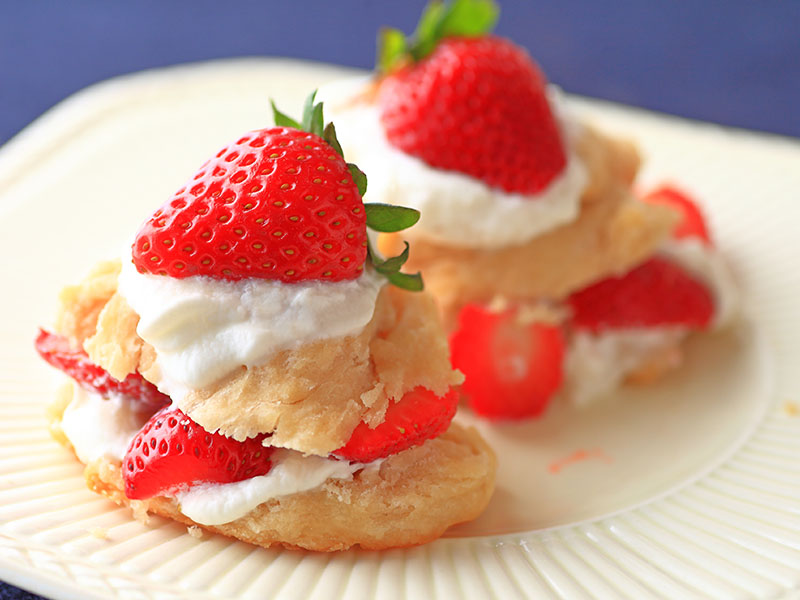 Servings: 8-10 servings
Preparation time: 10 minutes
Cooking time: 30 minutes
Ingredients
½ cup butter, left at room temperature
¼ cup + 2 tablespoons sugar
1 teaspoon vanilla
2 cups flour
1 tablespoon baking powder
1 cup milk
1 large clamshell (about 454 grams) fresh strawberries, washed or 2 cups frozen strawberries, thawed
2 cups dessert whipped topping
Directions for Preparation
Preheat the oven to 350° F. Grease a 9" round baking dish. Can also use a square pan.
In a large-size bowl, use a hand blender to whip the butter with ¼ cup of sugar and vanilla until smooth.
Add the flour, baking powder and milk. Use a mixing spoon to stir the thick batter.
Evenly press the batter into the cake pan and sprinkle with 1 tablespoon of sugar.
Bake for 30 minutes.
Meanwhile, slice the strawberries and sprinkle with the remaining tablespoon of sugar.
Once the cake has cooled, carefully slice into wedges. Split each wedge in half, fill with strawberries and whipped topping.
This round shortbread cake cut into wedges then filled with strawberries and cream is the ultimate way to indulge with loved ones.
Return to Recipes List