Main Course: Zesty Marinated Mushrooms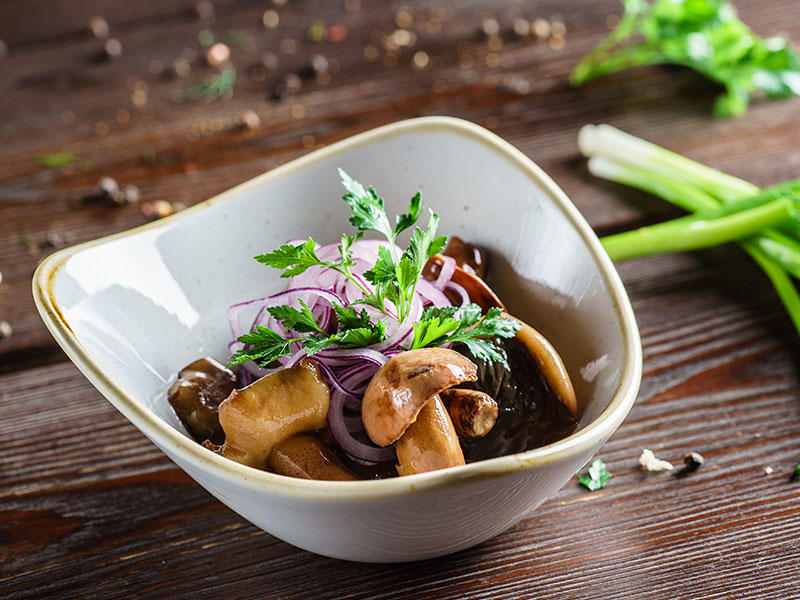 Ingredients
4 cans (about 284 ml) whole mushrooms, well-drained
1 small onion, very thinly sliced
½ cup vegetable or olive oil
½ cup white or apple cider vinegar
1 tablespoon of honey
1 tablespoon mustard
1 teaspoon paprika
¼ teaspoon black pepper
2 bay leaves
Directions for Preparation
In a medium-size bowl, mix everything together.
Store in a covered container in the fridge overnight. Stir the mushrooms a few times throughout the day.
When ready to serve, remove half of the sauce and the bay leaves. Set the mushrooms out on the table in a few glass mason jars or in a nice bowl. Toothpicks are handy to have close by for easy snacking.
These zesty mushrooms are a hit every time! This recipe comes from a small town where potlucks and buffet-style gatherings are commonplace. Leftover dressing can be used as a marinade for grilled pork or chicken. Stock cupboards with canned vegetables for days when you might be out of fresh or frozen. They are still a healthy choice if you drain and rinse the vegetables to remove excess sodium. Fresh mushrooms cannot be substituted in this recipe since they become soggy.
Return to Recipes List