Main Course: Steak in a Rich Mushroom Gravy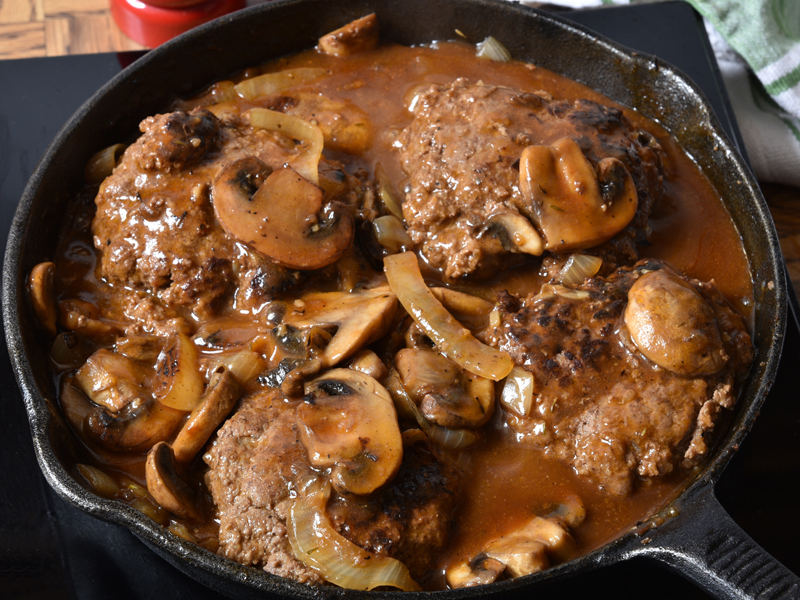 Servings: 8 servings
Preparation time: 15 minutes
Cooking time: 30 minutes
Ingredients
2 teaspoons
vegetable oil
4 thick steaks or 8 thin steaks
¼ teaspoon each pepper and salt
1 tablespoon butter or margarine
2 medium onions, sliced
2 cloves garlic or ½ teaspoon garlic powder
2 packages (227 grams) fresh mushrooms, quartered or 2 cans (284 mL) sliced mushrooms, rinsed and drained
3 tablespoons flour
3 cups beef broth or 2 cups water
1 teaspoon or 1 cube beef bouillon, crushed
2 teaspoons Worcestershire sauce
Directions for Preparation
Quickly pound steaks to tenderize. Cut thick steaks into three stripes and thin steaks in half.
Pat steaks dry with a paper towel. Sprinkle with salt and pepper.
Heat a lightly oiled, deep skillet until just beginning to smoke. Cook steaks for 2-3 minutes each side for thick steaks or 1-2 minutes per side for thin steaks. Remove from the pan and set aside.
Heat the remaining fat in the skillet. Add onion and cook until onions are soft. Stir constantly. Add the garlic. Cook for a few more minutes. Remove from the pan.
Add the sliced mushrooms to the hot skillet. Cook stirring constantly for 1-2 minutes.
Place the flour in a small bowl. Slowly add about ½ cup of water stirring constantly until smooth.
Add to the remaining water.
Add the rest of the ingredients in the skillet including the onion and garlic mixture.
Bring up to a boil stirring constantly until the gravy thickens.
Add the steaks back into the gravy along with the juices. Remove from heat and serve.
To pound steaks with less mess, cover them with plastic wrap then use any household item like a large pot, frying pan or even a can to evenly give a few decent blows.
Return to Recipes List