Main Course: Tender Beef Stew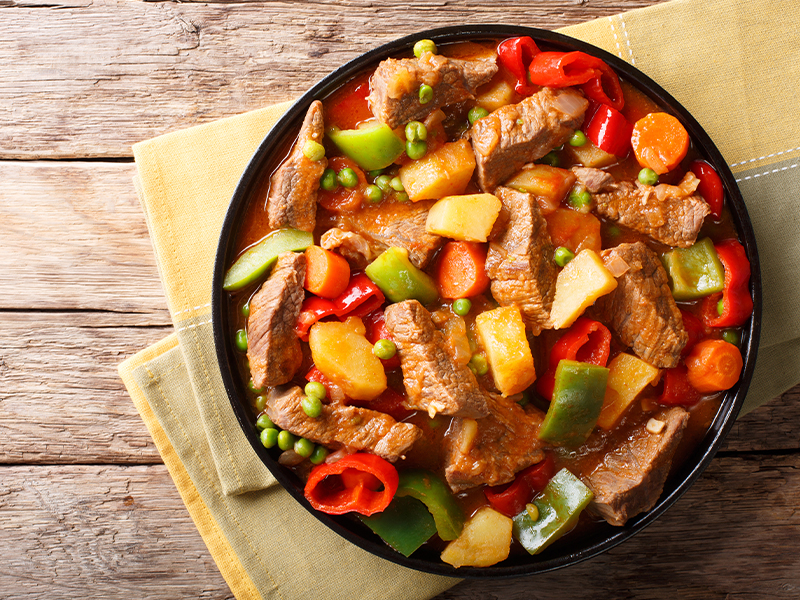 Servings: 8-10 servings
Preparation time: 15 minutes
Cooking time: 60 minutes
Ingredients
3 tablespoons
vegetable oil
1 large onion, chopped
2 pounds lean stew beef or wild meat, trimmed and cut into small cubes
¼ cup flour
2 ½ cups water
2 cloves garlic, minced or ½ teaspoon garlic powder
4 cups frozen vegetables, any type
1 package onion soup mix
2 tablespoons tomato paste
Seasonings (optional) 1 bay leaf, 2 teaspoons dried parsley, salt, and pepper to taste
4 medium potatoes peeled and diced
Directions for Preparation
In a large pot, fry the onion in the oil until softened.
Sprinkle the beef with the flour. Add to the pot and fry until the beef is browned.
Add the rest of the ingredients except for the potatoes.
Bring up to a boil. Lower the heat and cover with a lid.
Cook stirring occasionally for 30 minutes.
Add the potatoes. Cook for another 30- 40 minutes or until the beef is tender. Add water if needed.
This one-pot beef stew recipe is a classic and perfect for a cold day! Using frozen vegetables in this recipe cuts down preparation time. Frozen vegetables are just as healthy as fresh!
Return to Recipes List