Main Course: Easy Bean Quesadillas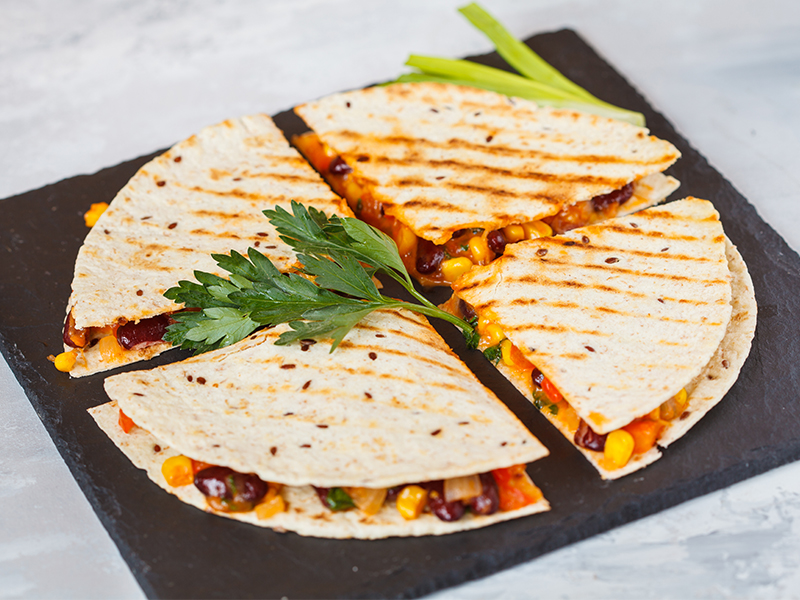 Ingredients
2 tablespoons vegetable oil
1 medium onion, grated
1 carrot, grated
2 cups canned kidney beans, rinsed and drained
¾ cup water
Chili powder, add to your taste
1 cup block cheese, shredded
6 medium tortillas, preferably whole wheat
Directions for Preparation
Heat the oil in a medium-size pot. Fry the onion and the carrot until softened.
Add the beans and the water. Bring up to a boil stirring often.
After about 10 minutes, mash with a fork or a potato masher.
Let cook for another few minutes. The mashed beans should be thick but add water if too thick to stir.
Spread each tortilla with equal amounts of bean mixture then top with equal amounts of cheese. Fold each quesadilla in half to look like a half-moon.
Heat a large, non-stick pan until warm. Add a quesadilla. Once golden, flip to cook the other side. Cut each quesadilla into wedges then serve.
Serve these with a side of tomato salsa for dipping. To make these ahead of time, complete directions 1- 5. Cover well and store in the fridge for up to 2 days. Then fry right before serving.
Return to Recipes List