Main Course: Sweet and Salty Chicken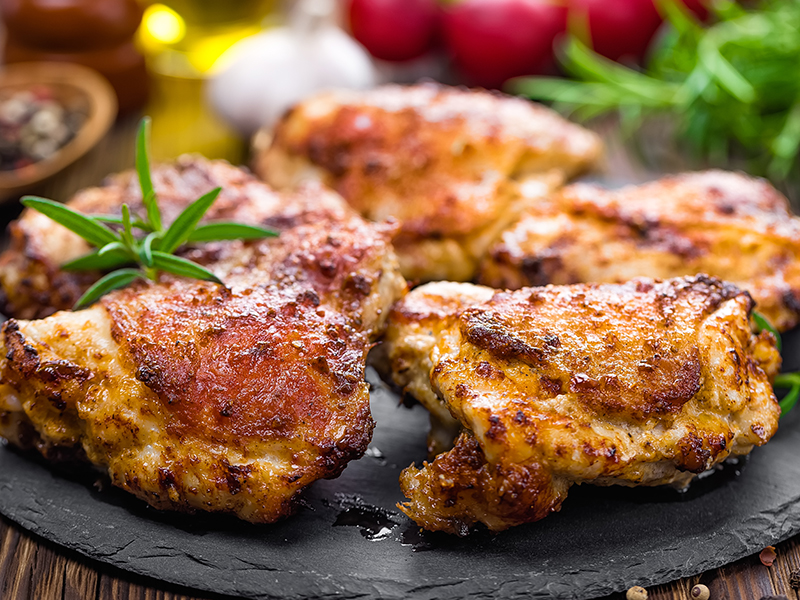 Servings: 8 servings
Preparation time: 5 minutes
Cooking time: About 30-45 minutes
Ingredients
¼ cup hummus
2 tablespoons vegetable oil
1 tablespoon water
3-4 garlic cloves, minced or 1 ½ - 2 teaspoons garlic powder (add to your taste)
¼ teaspoon black pepper
2 tablespoons ketchup
8 chicken drumsticks or thighs
Directions for Preparation
Stir all the ingredients together except the chicken in a large bowl. Add more garlic to your taste.
Add the chicken and stir until all the pieces are coated. If you have time, let marinate in the fridge.
Preheat the oven to 350°F or heat the BBQ grill on high.
If cooking in the oven, place in a baking dish and place in the oven with all the marinade. If cooking on the grill, place on the hot grill and turn down to low.
Bake for 45 minutes or cook on the BBQ for about 20 to 30 minutes or until the internal temperature reaches 74°C (165°F).

If cooking on the BBQ the sauce might stick to the grill. To avoid this, you can start the chicken on a piece of aluminum foil until half-cooked, then transfer directly to the grill to finish cooking.
Return to Recipes List