Northern Recipes: Bannock Pockets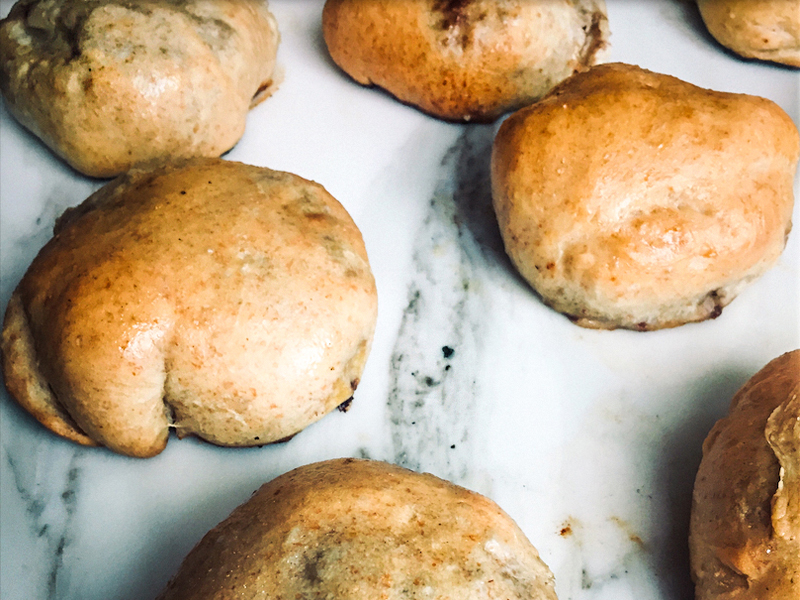 Servings: 12 pockets
Preparation time: 15 minutes
Cooking time: 45 minutes
Ingredients
1 teaspoon white sugar
1 cup lukewarm water
1 envelope dry traditional yeast
1 cup lukewarm milk
½ cup vegetable oil
3 ½ cups white flour
1 cup or whole wheat flour (can replace with white flour)
½ teaspoon salt
1-pound ground meat, any type
1 cup (about 1 medium) carrot, grated
1 medium onion, grated
¼ teaspoon salt
¼ teaspoon pepper
½ teaspoon garlic powder
½ cup frozen peas
Directions for Preparation
In a large bowl, stir the sugar into the water until it dissolves. Sprinkle it with the yeast. Let it sit for 10 minutes. Bubbling is good, that means the yeast is alive. If no bubbles, repeat step 1 with new yeast.
After 10 minutes, stir in the milk and oil. Then add the flour and ½ teaspoon salt. Stir gently until you have a soft mound of dough. If the dough is really sticky, sprinkle with flour.
Sprinkle flour on a clean, flat surface like a cutting board or counter top. Flour your hands. Grab the dough and gently knead it 5 minutes. Dust your hands and the surface as much as needed to prevent sticking.
Roll out the dough into an even-shaped log. Cut the dough into 6 even pieces. Now cut each piece into 2 pieces for a total of 12 pieces of dough.
Roll out each dough piece into a ball. Cover with a damp, clean tea towel to rise for about 30 minutes.
Meanwhile using a medium size bowl, mix together the rest of the ingredients.
Repeat the same process with the meat mixture as you did in step #4 with the dough to form 12 meatballs.
Preheat oven to 325°F and grease two cookie sheets with oil.
After the dough balls have risen for 30 minutes, flatten each ball slightly, then pop a meatball in the middle and close the dough around the filling, forming a ball. Flatten the ball then place on a baking sheet.
Bake for 45 minutes. Right out of the oven, brush the tops with a little oil or pan drippings.
To substitute instant (or rapid rise) yeast for traditional yeast, use 1 ¾ teaspoon of instant yeast and just add it to the dry ingredients.
Return to Recipes List