Main Course: Impossible Supper Pie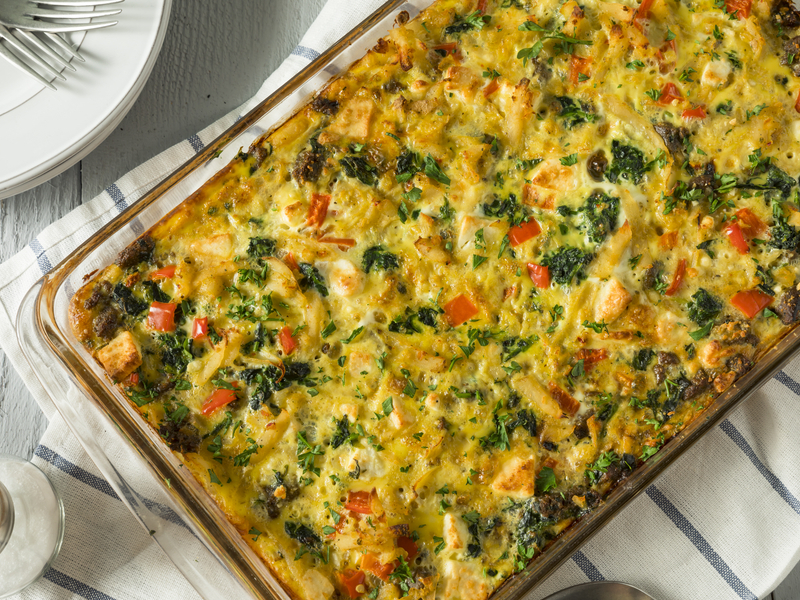 Ingredients
2 tablespoons vegetable oil (3 tablespoons if using lean meat like turkey sausage)
5 Italian sausages or 7 breakfast sausages
1 medium white or red onion, sliced or 4 green onions, sliced
2 cups fresh vegetable like grape tomatoes, sliced mushrooms, sliced zucchini or frozen mixed vegetables, any kind (thawed and drained very well)
2 cups flour
1 teaspoon baking powder
¼ teaspoon each salt and pepper
¼ teaspoon any dried herb like parsley or 1 tablespoon any fresh herb like basil
4 cups milk
4 eggs
1 ½ cups shredded cheese
1 package (about 250 grams) chopped frozen spinach, defrosted and drained very well
Directions for Preparation
Preheat the oven to 375° F. Grease a large, deep baking dish around 9 inches by 13 inches.
Spread the oil onto the bottom of the dish. Scatter the sausages and vegetables into the dish.
Bake for 30 minutes.
Let cool and place in the fridge to cook later or continue on to step 5.
In a medium bowl, place the dry ingredients.
Stirring constantly, slowly add in the milk. Stir until smooth.
Blend in the eggs and stir in half of the cheese.
Roughly chop the cooked sausage and scatter onto the bottom of the baking dish.
Pour the milk mixture into the baking dish.
Bake for about 45 or until a knife inserted into the middles comes out clean. Top with the remaining cheese. Let sit for a few minutes before serving.
This is the easiest quiche ever. Start the night before to speed up the cooking process the next day. Makes a large batch that you cut into squares so the leftovers can be packed for weekday lunches.
Return to Recipes List