Dessert: Strawberry Cheesecake Boats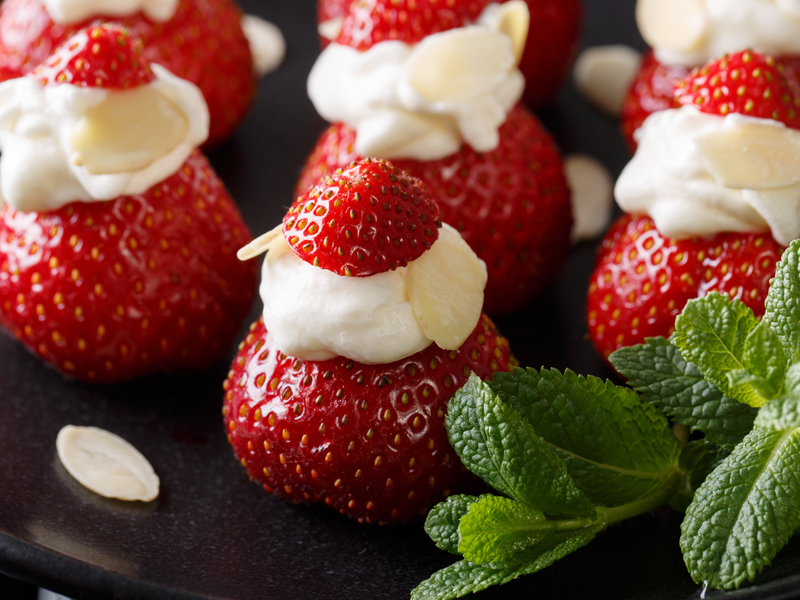 Servings: 32-36 pieces
Preparation time: 15 minutes
Cooking time:
Ingredients
1 pound or 454 grams fresh strawberries, washed, sliced in half lengthwise
1 package (250 grams) light cream cheese, left at room temperature for an hour
2 tablespoons sour cream or plain yogurt
3 tablespoons sugar
¼ teaspoon vanilla
½ cup crushed cookies, any crunchy type of cookie-like graham cracker, animal cookies
Directions for Preparation
To ensure the strawberries lay flat, slice a thin piece off the bottom piece of each strawberry halve. Keep the strawberries slices for the cream cheese mixture.
In a medium bowl, place the strawberry slices and the rest of the ingredients except the cookie crumbs.
Beat with an electric mixer until smooth.
Using a small spoon, spoon the mixture onto each strawberry halve.
*Either dip the strawberry halves into the cookie crumbs or sprinkle the cookie crumbs onto each halve.
*Wait for step #5 until right before serving otherwise the cookie crumbs will be soggy. Kids will love to help scoop the cheesecake filling onto the strawberries and to help with the cookie crumbs. Store in the fridge.
Return to Recipes List