Main Course: Stovetop Cabbage Roll Casserole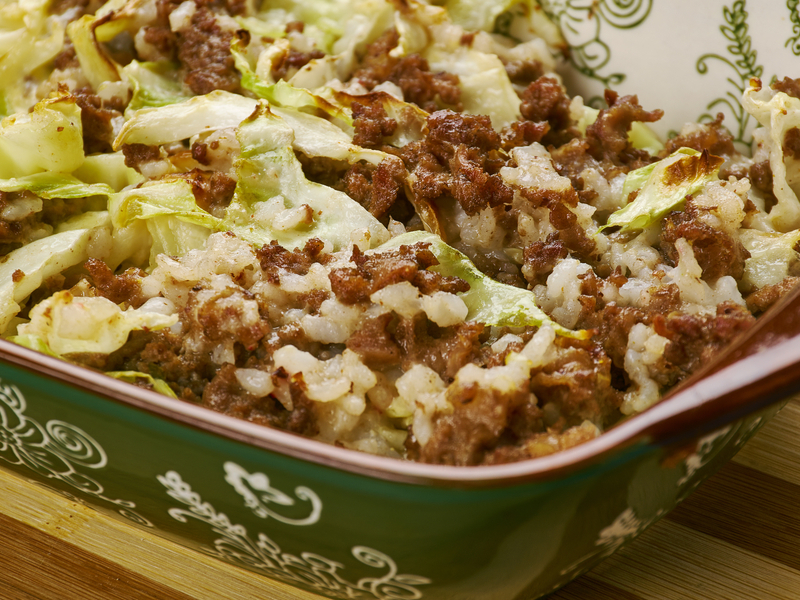 Servings: 8 servings
Preparation time: 15 minutes
Cooking time: 60 minutes
Ingredients
2 pounds or 1 kilogram lean ground beef
1 large onion, roughly chopped
1 can (797 mL) diced tomatoes, preferably low or no sodium
1 can (284 mL) condensed tomato soup
1 ½ cup rice, preferably brown
2 cups water
½ half a medium to large cabbage (about 10 cups), cut very thinly
1 ½ teaspoons oregano or Italian seasoning
2 teaspoons dried parsley
Directions for Preparation
1. In a very large pot, brown the ground beef with the onions. Stir often to break the ground beef into smaller pieces.
2. Add the rest of the ingredients. Stir well.
3. Bring up to a low boil and cover with a lid. Cook for about 50 minutes or until the cabbage and rice are tender.
4. Stir occasionally to ensure rice does not burn at the bottom of the pot. To avoid mushy rice, don't over stir.
5. Let sit for 10 minutes before serving to let the rice absorb a little more liquid.
Ground beef can contain a harmful bacteria called E coli that is killed during cooking. Since this bacteria can stay alive on the stirring spoon, make sure to use a clean spoon to stir the mixture after step #2 of this recipe.
Return to Recipes List