Main Course: Creamy Paprika Chicken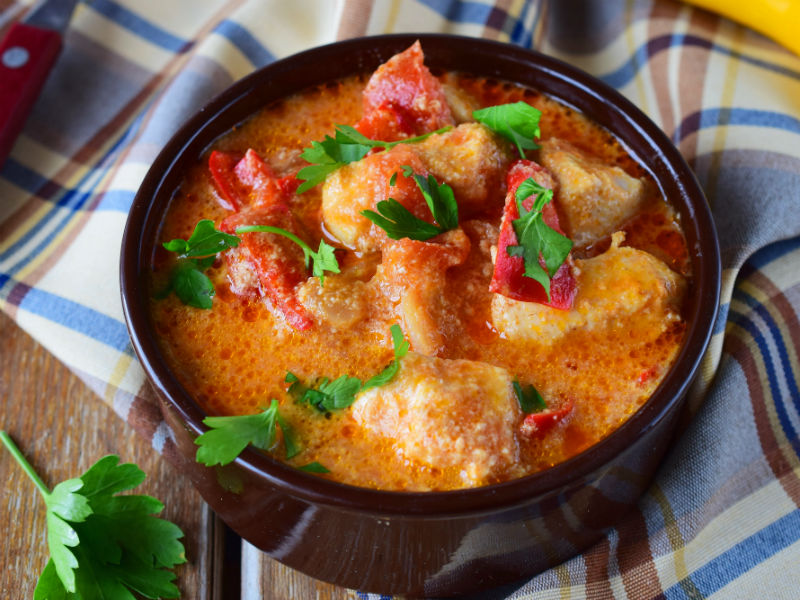 Ingredients
2 teaspoons vegetable oil
6 chicken thighs or drumsticks, skin removed
1 large onion, chopped
2 cloves garlic, minced or ½ teaspoon garlic powder
4 peppers, washed and sliced into strips
1 can (284 mL) condensed tomato soup
2 cups water
1 cup light sour cream or plain yogurt
3 tablespoons flour
1 teaspoon paprika powder, or chili powder (Use up to 3 teaspoons for a spicier sauce)
*optional 1 teaspoon dried or fresh dill
Directions for Preparation
In a large frying pan, warm the oil on medium heat. Add the chicken to the warm oil and brown all sides. Set aside.
In the same pan, fry the onion and garlic until softened.
Transfer the onion and garlic mixture to a large pot. Add the chicken, peppers, tomato soup and the water.
Bring up to a boil, lower the heat and cover with a lid. Cook for 30 minutes on low boil.
In a medium bowl, mix together the sour cream, flour and seasonings until smooth.
After the 30 minutes, stir in the sour cream. Stir constantly until the sauce thickens.
To maintain steady blood sugars, serve over whole wheat noodles rather than white noodles. The serving size of noodles is about the size of your fist.
Return to Recipes List