Salad: Summer Chicken Salad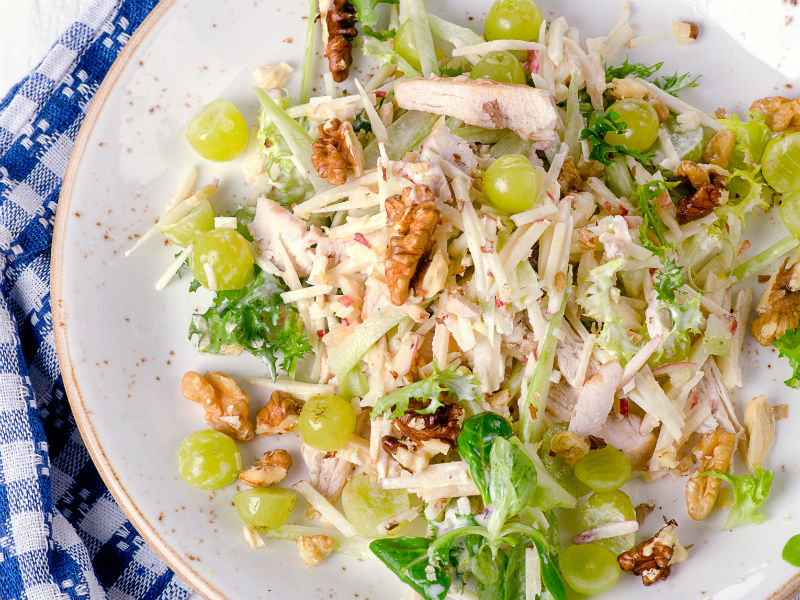 Servings: 8 cups
Preparation time: 15 minutes
Cooking time: 0 minutes
Ingredients
Salad
½ large head romaine lettuce (8 cups), washed and chopped
2 cups grapes, sliced in half
½ cup chopped walnuts or sunflower seeds
½ cup cheese like shredded cheddar or crumbled feta
2 skinless cooked chicken breasts, roughly chopped
Dressing
¼ cup plain yogurt or light sour cream
1 tablespoon olive oil
1 teaspoon honey
2 tablespoon lemon juice
1 tablespoon mayonnaise
½ teaspoon garlic powder
Salt and pepper to taste
Directions for Preparation
In a large bowl, layer the first 5 ingredients.
Whisk together the dressing.
Right before serving, pour on the dressing.
During warm weather months, drinking a minimum of 8 glasses of water is a must but you can also eat water logged foods to quench your thirst. Watermelon, broccoli, strawberries and grapes are made up of at least 80% water!
Return to Recipes List