Dessert: Classic French Custard Cake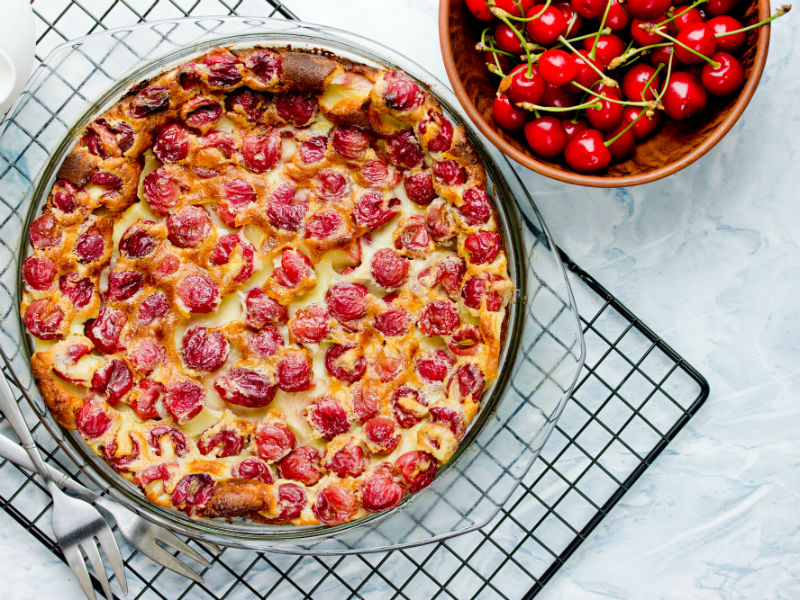 Servings: One 10" round cake (8 pieces)
Preparation time: 10 minutes
Cooking time: 45-60 minutes
Ingredients
2 cups pitted cherries or fruit substitute
3 eggs
1/3 cup sugar
1 teaspoon vanilla extract
Zest of 1 lemon or 1 tablespoon lemon juice
½ cup flour
1 ¼ cup milk (canned, evaporated milk preferred)
1 teaspoon icing sugar as a garnish
Directions for Preparation
Preheat the oven to 350° F and grease a round 10" cake pan.
In a large bowl, whisk together eggs, sugar, vanilla and lemon zest or juice until combined.
Whisk in flour. Then slowly whisk in milk until batter is smooth. It should be a little thicker than whipping cream.
Pour ¼ of the batter in pan and place in the oven for 10 minutes.
Gently remove from the oven and spread the fruit evenly on top of the set batter. Top with remaining batter.
Bake for about 35-50 minutes, until the cake is fluffy and brown. A toothpick inserted in the middle should come out clean.
Sprinkle with powdered sugar and serve warm.
To remove fruit pits, run a small knife from the stem-end of the fruit all the way around. Keep the blade up against the pit, finish where you started. Hold the fruit and gently twist until one half comes free. Take out the pit by loosening with your finger.
Return to Recipes List