Main Course: Sweet n' Sticky BBQ Chicken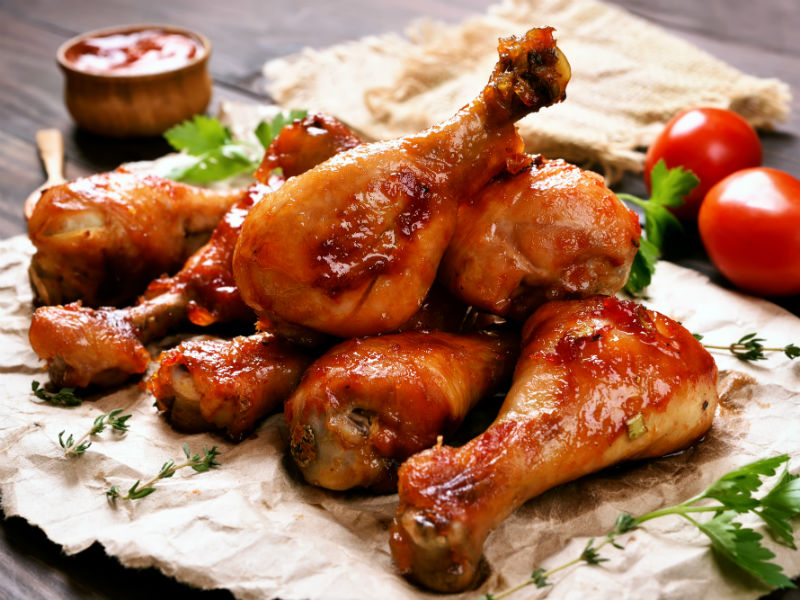 Servings: Eight pieces of chicken
Preparation time: 10 minutes
Cooking time: 30-40 minutes
Ingredients
8 chicken pieces (thigh or drumstick)
¼ cup ketchup
2 tablespoons soy sauce, preferably low sodium
3 cloves garlic, minced or 1 teaspoon garlic powder
½ teaspoon Chinese 5 spice powder or ¼ teaspoon cinnamon + ¼ teaspoon cloves + ¼ teaspoon black pepper
¼ teaspoon chili flakes (optional)
2 tablespoons honey
Directions for Preparation
In a large bowl, mix together all of the ingredients except the chicken and the honey.
Set aside 2 tablespoons of the sauce.
Add the chicken and combine until each piece is well-coated. Place in the fridge to marinade for at least 30 minutes.
On a hot grill, place the chicken skin side down.
Grill on high until there are some good grill marks on the skin.
The chicken now needs to cook on low. Transfer the chicken to the top rack or on one side of the grill with the burner off.
Keep the lid closed to seal in the heat. Cook on low (about 350 °F) for about 10 minutes then using a clean set of tongs turn the chicken over. Cook every side for about 10 minutes.
It will take about 40 minutes and thigh or drumsticks about 35 minutes.
Once the chicken is cooked, mix the honey into the reserved BBQ sauce.
Coat the chicken with the remaining sauce, close the lid and let cook just a few more minutes until the sauce becomes shiny and sticky.
Consider food safety at your next BBQ. Chicken must be cooked until juices run clear or at least 165 °F. Do not mix raw with cooked; use clean tongs to flip chicken and a clean plate to place the cooked chicken.
Return to Recipes List