Main Course: Homemade Macaroni n' Cheese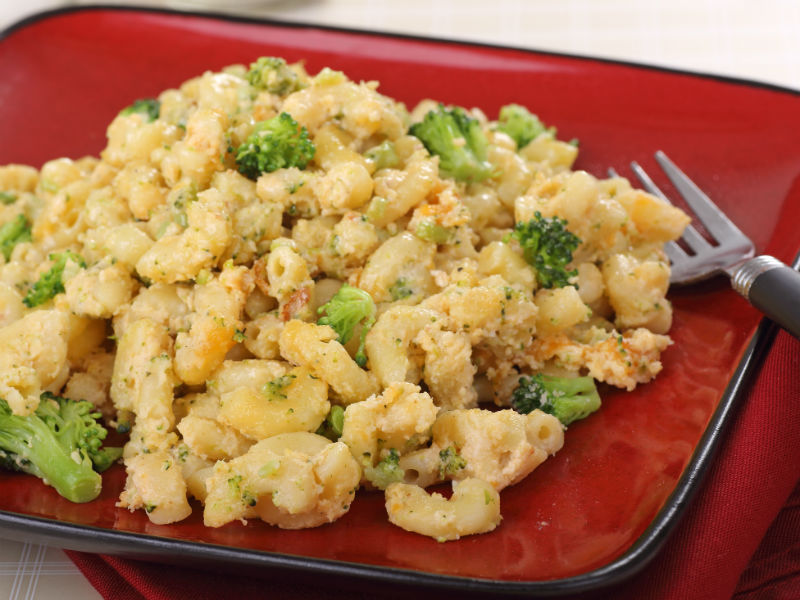 Ingredients
Box or bag (375 g) or 4 cups elbow macaroni noodles
3 tablespoons non-hydrogenated margarine
¼ cup flour
1 can (354 mL) 2% M.F. evaporated milk
½ cup water
1 garlic clove, finely chopped or ¼ teaspoon garlic powder
1 cup cheddar cheese, shredded
4 cups chopped frozen broccoli (optional)
Directions for Preparation
Cook macaroni according to package directions. Once cooked, drain and place back into the pot. Set aside.
In a smaller pot, melt margarine over medium heat. Stir in the flour and garlic.
Cook over medium heat for 1-2 minutes, stirring constantly, until the mixture is smooth.
Gradually stir in milk and water.
Cook stirring constantly until thick and bubbly. Slowly stir in cheese until fully melted.
Add cheese sauce to the cooked macaroni. Combine so all the noodles are coated in sauce. Add more milk if sauce is a little too thick.
For a more balanced meal, add 4 cups chopped frozen broccoli to the boiling noodles when they are almost done. Drain with the noodles and mix in with the cheese sauce.
Return to Recipes List