Main Course: Sweet n' Sour Meatballs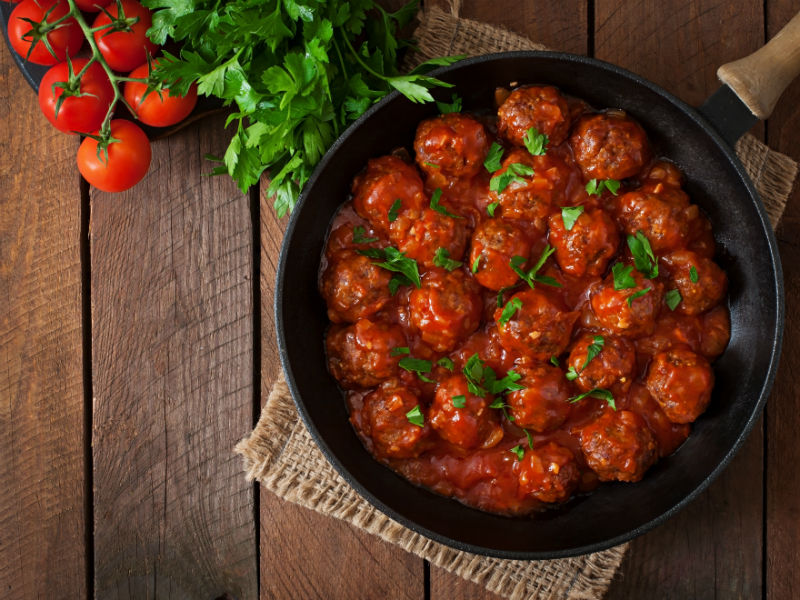 Servings: 12-14 servings
Preparation time: 5 minutes
Cooking time: 25 minutes
Ingredients
8 cups cooked instant rice or noodles
2 teaspoons vegetable oil
1 onion, chopped
2-pounds or 1 KG frozen meatballs
5 cups water
1 can (540 mL) crushed canned pineapple
2 garlic cloves, chopped or ½ teaspoon garlic powder
1 small can (156 ml) tomato paste
5 cups frozen vegetables, any type that contains broccoli
¼ cup + 2 tablespoons vinegar
2 tablespoons soy sauce (use low sodium, if available)
3 tablespoons corn starch or 4 tablespoons flour
Directions for Preparation
Drain the canned pineapple. Set the juice aside.
In a large pot, fry the onion in the oil until softened.
Add the meatballs, water, drained pineapple, garlic, tomato paste, frozen vegetables, vinegar and soy sauce.
Bring the mixture up to a boil and cook for 5 minutes or until the meatballs are heated through.
Stir the corn starch or flour into the pineapple juice until it forms a smooth paste. Slowly stir into the boiling mixture. Cook until thickened.
Turn off heat and let sit for 10 minutes before serving.
Meanwhile, cook the rice or noodles according to package directions.
February is Heart Health Month. Brocolli, carrots and peppers are all high in Potassium. Potassium helps to lower blood pressure by balancing out the negative effects of salt.
Return to Recipes List