Dessert: Apple Crisp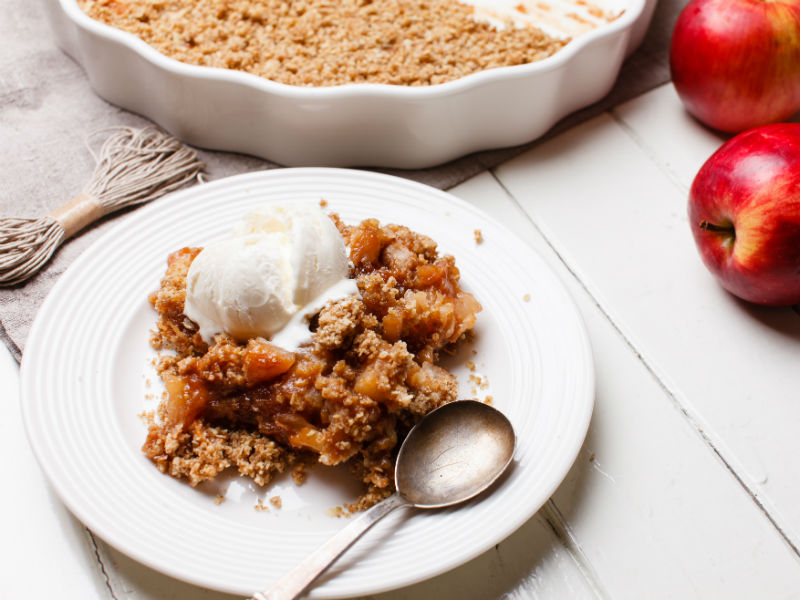 Ingredients
Bottom Layer
8 cups apples (about 8 medium apples), washed, skin left on and finely diced
2 tablespoons brown or white sugar
¼ cup apple, orange or lemon juice
½ teaspoon cinnamon
Top layer
1 cup non-hydrogenated margarine
3 cups oats, any type
1 ¼ cups flour
½ cups sugar
1 teaspoon cinnamon
Directions for Preparation
Preheat the oven to 350 °F. Grease a 9" x 13" baking pan or 2 loaf pans.
In a medium bowl, mix together the ingredients for the bottom layer. Pour the bottom layer into the pan(s).
In another medium bowl, mix together the dry ingredients. Add the margarine.
Using two butter knives, scissor through the dry mixture to cut in the margarine. Keep doing this until all mixture looks like small peas and no dry flour is left.
Evenly spoon on the top layer. Flatten any big bumps.
Bake for an hour or until the edges are golden brown. Let cool 15 minutes before serving.
This crisp is even better served warm with a big spoonful of cold vanilla yogurt. Enjoy!
Return to Recipes List