Main Course: Fully Loaded Double Baked Potato Skins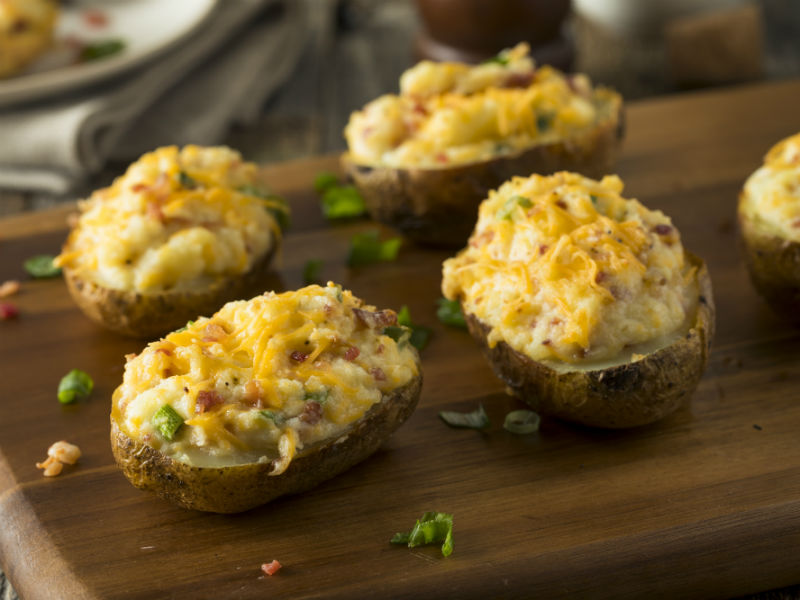 Ingredients
8 medium potatoes, washed (russets work well)
1 large onion, finely chopped
1 tablespoon non-hydrogenated margarine or vegetable oil
½ cup sour cream, preferably low fat
½ teaspoon paprika or chili powder
½ teaspoon garlic powder
1 cup shredded cheddar cheese
Salt and pepper to taste
Directions for Preparation
Poke the clean potatoes all over with a fork. Place in the microwave on a plate and cook until the potatoes are soft (5-10 minutes). You can also bake the potatoes in the oven at 375°F for about 60 minutes but cover with foil first.
Meanwhile, fry the onions in the margarine or oil until browned. Set aside.
Carefully cut off the top third of the cooked potatoes. Remove the skin of the tops if very tough, if not, leave the skin on. Chop up the tops and place in a medium bowl.
Scoop out the insides of the potatoes into the bowl with the potato tops. Leave about ½" on all sides to make sure the potato skin is strong enough to hold the filling.
Into the bowl with the potato mixture, add the rest of the ingredients except the shredded cheese. Mash well with a fork.
Place the potato shells on plate if microwaving or a baking sheet lined with tin foil if baking.
Scoop and pack the potato mixture into the potato shells forming a tall mound and top with cheese.
Microwave until the filling is hot and the cheese is melted (2 to 4 minutes) or bake at 375°F for 20-30 minutes until golden brown.
Save time by cooking the potatoes and frying the onions a few days before you need them. Store in the refrigerator. Since the potatoes are already chilled, it is quick to cut off the tops and stuff with filling.
Return to Recipes List