Main Course: Sweet Potato Wild Rice Dish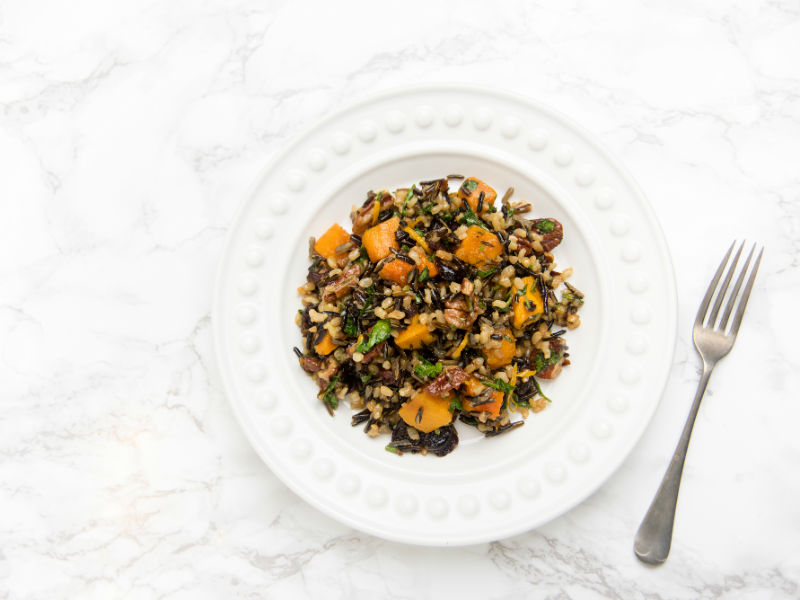 Servings: 7 cups
Preparation time: 15 minutes
Cooking time: 40 minutes
Ingredients
3 tablespoons vegetable oil
2 medium sweet potatoes or yams, washed peeled then cubed
2 stalks celery or 2 green peppers, washed and chopped
1 large onion, chopped or 1 tablespoon onion powder
2 cloves garlic, chopped or 1 teaspoon garlic powder
1 cup wild rice or wild rice blend or white rice (not instant)
2 cups water or low sodium chicken broth
2 tablespoons fresh sage chopped or 1 teaspoon dried sage
Salt and pepper to taste
Directions for Preparation
Preheat oven to 375 °F. Line a large baking sheet with aluminum foil. Place the sweet potatoes or yams on the baking sheet and coat well with 2 tablespoons of oil.
Roast until tender (about 20 minutes), stirring half way through.
Meanwhile, in a large pot on medium heat, fry the onion in 1 tablespoon of oil until soft (about 5 minutes).
Add the other vegetables and fry another 5 minutes.
Stir in the remaining ingredients. Bring up to a boil, lower the heat to minimum and cover. Cook for about 20 minutes or until the rice is soft. Add more water if needed.
Once rice is cooked, stir in the roasted potatoes or yams.
This recipe can easily be doubled and leftovers freeze well to eat another day. Add toasted walnuts or sunflower seeds for extra flavour!
Return to Recipes List