Main Course: B.A.T. Sandwiches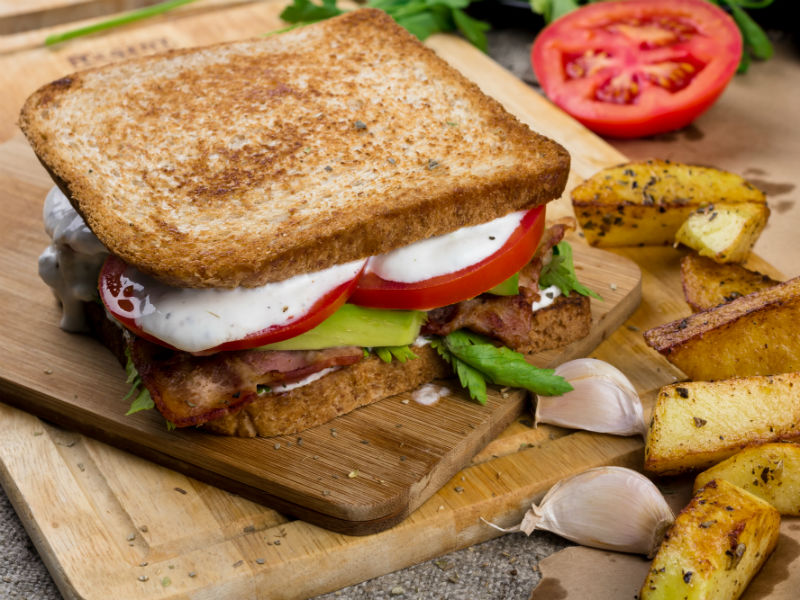 Servings: 4 sandwiches
Preparation time: 10 minutes
Cooking time: 10 - 15 minutes
Ingredients
Swap out lettuce with a layer of creamy avocado to turn classic B.L. T's. into a more filling meal.
8 slices turkey or chicken bacon
2 slightly firm avocados
2 tomatoes, thinly sliced
4 teaspoons mayonnaise or whipped salad dressing, preferably low fat
8 slices whole wheat bread, toasted
Directions for Preparation
Fry the turkey bacon in a large frying pan until crispy. Set aside on paper towel.
Halve the avocados; remove the pit then then the peel. Place the cut side down on a cutting board and then slice lengthwise.
Spread 1 teaspoon of mayonnaise or whipped salad dressing on one slice of toast. Layer on the tomatoes, avocado and bacon. Finish the sandwich with another slice of toast.
Avocado has a creamy, rich texture similar to butter but is full of healthy, monounsaturated fats. Pick avocados that feel slightly ripe, similar to the firmness of a perfect peach.
Return to Recipes List