Dessert: Pumpkin Cupcakes with Meringue Frosting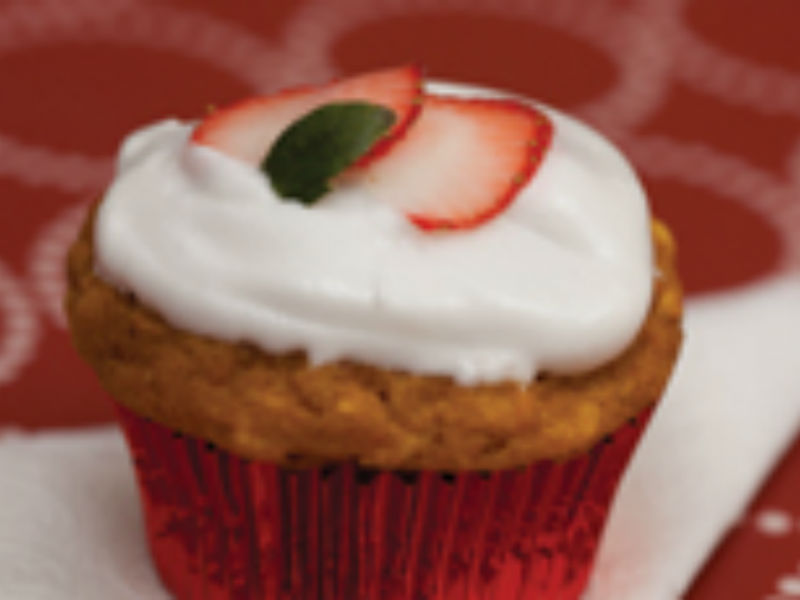 Ingredients
Cupcakes
1 cup canned pumpkin pie filling
1 cup canned crushed pineapple (including the juice)
2 eggs
1/4 cup canola oil
2 teaspoons cinnamon
1/4 cup milk
1 1/2 cups all-purpose flour
3 1/2 teaspoons baking powder
Frosting
1/4 cup white sugar
1 teaspoon vanilla
2 tablespoons water
2 egg whites
1/4 teaspoon lemon juice
Directions for Preparation
Cupcakes
Preheat oven to 350F
In a medium mixing bowl, mix the first 6 ingredients until well blended.
In a second bowl, blend baking powder into flour.
Add the flour mixture into the wet ingredients and blend gently.
Spoon the mixture into a greased muffin tin;
Bake for 20 minutes
Let cool then ice with frosting.
Frosting
In a small saucepan bring 1/4 cup white sugar, 1 teaspoon of vanilla, 2 tablespoons of water to a boil.
Put aside to cool.
Ten minutes later, whip 2 egg whites using a hand blender while very slowly pouring in the sugar mixture. This should take about 5 minutes.
Add 1/4 of a teaspoon of lemon juice and continue to beat until egg whites stiffen.
Top each cupcake with 2 tablespoons of frosting.
Return to Recipes List