Soup: Chicken Noodle Soup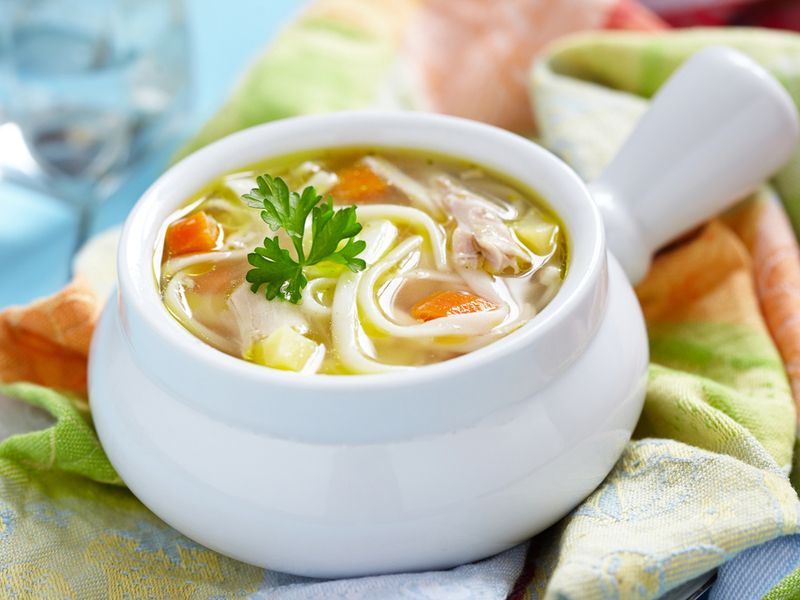 Servings: 6-8 servings
Preparation time: 15 minutes
Cooking time: 35 minutes
Ingredients
This comforting soup is exactly what you need on a cool day. Filled with juicy chicken and tender noodles, this recipe only takes about 35 minutes to make.
4 chicken thighs or drumsticks, skins removed
4 cups or 1000 mL chicken broth
10 cups water
1 tablespoon vegetable oil
1 medium onion, chopped
2 celery sticks, chopped
2 carrots, sliced into circles
2 cups pasta noodles, any type
1 garlic clove chopped or ½ teaspoon garlic powder
1 teaspoon Mrs. Dash or your favorite salt-free seasoning
Directions for Preparation
In a large pot, place the chicken, broth, and water. Cover with a lid and bring to a low boil for 20 minutes.
Meanwhile, in a large frying pan, fry the vegetables in the oil until golden brown. Set aside.
After 20 minutes, remove the chicken from the pot to cool. To the same pot, add the vegetables, noodles, and the seasoning.
Bring up to a low boil and cook until the noodles are almost soft.
Once the chicken is cool to touch, shred into pieces and add back into the large pot.
Boil for another 5 minutes and serve.
Return to Recipes List