Soup: ​Hearty Sausage Soup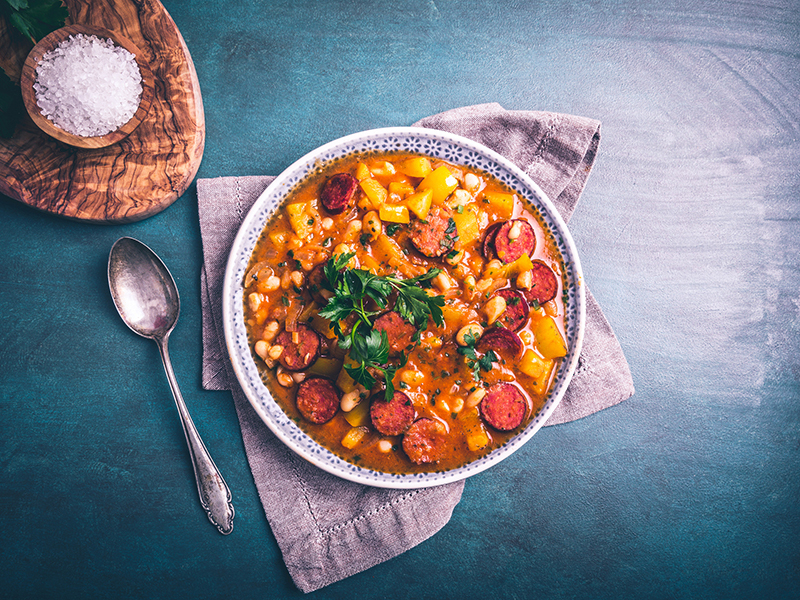 Servings: 8 portions
Preparation time: 10 minutes
Cooking time: 35 minutes
Ingredients
This is a filling and nourishing soup that will warm you up waiting for the Spring thaw.
4 sausages, any flavour
1 onion, chopped
5 cups water
4 cups frozen vegetables with carrots like California mix
2 bay leaves
½ teaspoon dried herbs like thyme or Italian seasoning
2 potatoes, peeled and cubed
1 can kidney beans (around 540 mL) drained and well-rinsed
Salt and pepper to taste
Directions for Preparation
Easy directions
In a large pot, add the sausage and onion. Cook the sausage until golden on both sides. Remove and set aside.
To the pot, add the water, vegetables, and seasonings. Bring to a boil and cover with the lid. Let cook for 15 minutes.
Meanwhile, prepare the potatoes and slice the sausage into rounds.
After 15 minutes, place the potatoes, beans, and sausage into the pot. Cover with the lid and cook until the potatoes are soft.
Season with salt and pepper to taste.
Return to Recipes List