Soup: Bacon Broccoli Salad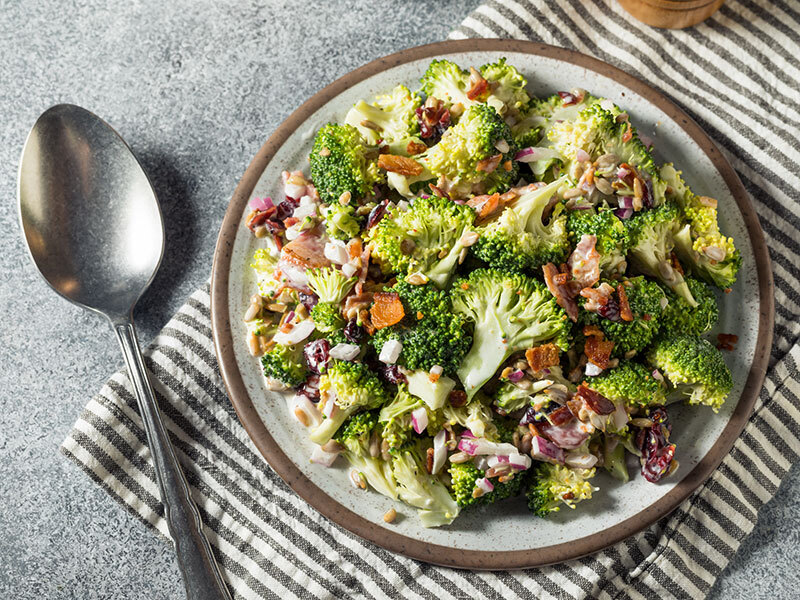 Servings: 9 x ½ cup servings
Preparation time: 20 minutes
Cooking time: 5 minutes
Ingredients
This broccoli salad with bacon is a delicious side dish for a family gathering.
Salad
4 ½ cups broccoli, chopped small (about 1 head)
¼ cup homemade or store-bought bacon bits
½ cup dried cranberries or raisins
¼ cup grated onion
¼ cup sunflower seeds or slivered almonds
¼ cup cheese, grated (optional)
Dressing
2 tablespoons vinegar
2 tablespoons water
1 ½ tablespoons sugar
½ cup mayonnaise or whipped salad spread
Directions for Preparation
In a large pot of boiling water, boil broccoli for 5 minutes. Drain and rinse under cold water, drain again.
Place the broccoli into a large bowl. Add the rest of the salad ingredients.
In a small bowl, whisk together the dressing ingredients.
Toss salad with dressing. Cover and store in the fridge until ready to serve.
Return to Recipes List